After nearly three hundred issues, Nintendo Power has finally come to an end. To send this long-running periodical off in style, the Cover Critic has decided to review every single issue. Join him as he experiences every aspect of Nintendo's journey through their magazine covers.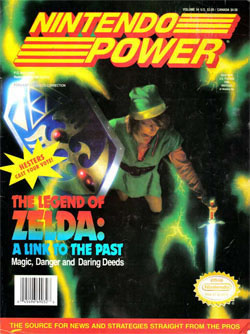 Click here to make larger!

After months of disappointing covers from the
Teenage Mutant Ninja Turtles
,
Simon Belmont
,
Samus Aran
and even
Captain Kirk
, Link has returned to save the day. With so many terrible covers in a row, it's clear that something terrible has happened to Nintendo Power's art department. But don't worry, the hero of The Legend of Zelda is here ... and he brought a sword!
Looking back at it now as an adult, I'm not so sure Link needed the sword. If I had to guess, I would think that the drop in cover art quality stems from Nintendo Power switching from six to twelve issues a year, placing significantly more work on their shoulders. The threat of physical violence is not the way to go, especially when hiring more artists would easily solve the problem.
This cover supports The Legend of Zelda: A Links to the Past, Link's first 16-bit adventure. By using an actor, this Nintendo Power issue plays homage to the
Zelda II cover from 1989
. Thankfully, the overworked art department has learned a few things since hiring Richard Marx to stare lovingly at Rick James. The Link costume is much more believable now, as is the detailed shield and sword. Even Link's hair is more in line with the game. It's good to see the guy get a haircut after that horrible mullet.
Instead of unrealistic props, Link is surrounded by darkness and flashes of lightning. You can see the Triforce underneath the poorly placed Official Nintendo Seal of Quality. Although it's still not as epic as The Legend of Zelda deserves, this cover art is a giant step in the right direction. It shows that Nintendo Power can be more dramatic than they let on, making me even more frustrated by this half-assed
Battletoads issue
.