After nearly three hundred issues, Nintendo Power has finally come to an end. To send this long-running periodical off in style, the Cover Critic has decided to review every single issue. Join him as he experiences every aspect of Nintendo's journey through their magazine covers.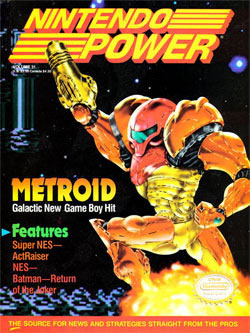 Click here to make larger!

In case you haven't noticed, the Nintendo Power cover is not a very welcoming place for a woman. In the past thirty issues, video game heroines have been reduced to being part of a large ensemble (
Maniac Mansion
) or playing the damsel in distress (
Zelda II: The Adventure of Link
). It took the magazine 31 issues to finally feature a woman on the cover as the hero. And then they go and cover her up.
For those who don't mind thirty year old spoilers, Samus is a woman. That's right; the hero of Metroid turns out to be a badass chick. Of course, you wouldn't know that based on this Nintendo Power cover. Here we see Samus completely covered, looking a lot like a colorful outer space RoboCop. She leaps out of the way of an explosion, thankful she is wearing bulky armor with giant shoulder pads.
Contrary to what Nintendo Power suggests, this is not a cover supporting Metroid. This is for Metroid II: Return of Samus, the 1991 sequel that was exclusive to the Game Boy. To their credit, Nintendo Power did mention that this is a "Galactic New Game Boy Hit," implying that it's not the same old Metroid game you played on the 8-bit NES. But would it have killed them to add a "II" next to title? They listed the subtitle for Batman - Return of the Joker, but decided to cut corners with their big holiday Game Boy release? That makes about as much sense as hiding the sexy star of Metroid under 400 pounds of robotic armor.