After nearly three hundred issues, Nintendo Power has finally come to an end. To send this long-running periodical off in style, the Cover Critic has decided to review every single issue. Join him as he experiences every aspect of Nintendo's journey through their magazine covers.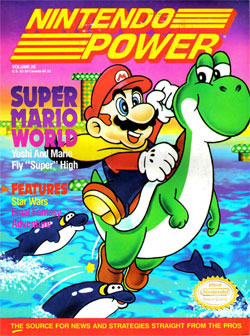 Click here to make larger!

I can't think of a bigger sea change than Mario and Yoshi swimming with the dolphins. The days of Koopa kids and raccoon suits are over, because Super Mario World is a world away from Super Mario Bros. 3. In reality the two were far more similar than this cover would have you believe, but go ahead and ignore reality as you soak in the ocean breeze and tropical air.
With its bright colors and friendly dolphins, this cover is meant to charm and delight the reader. Just look at Mario's face, this is the most excited he's been since that time he discovered the Minus World. This is Super Mario in his element, and that's the kind of thing that should bring a smile to any fan's face. So why is it that instead of being overwhelmed by this cover's charm, I find myself a little creeped-out?
Looking at it now, I think it has a lot to do with Yoshi. There's just something about the way he's looking at that dolphin that concerns me. And I'm not just saying that for comic effect; Yoshi is looking at that poor dolphin like Chris Christie looks at cake. And thanks to playing Super Mario World, I know a little too much about Yoshi's digestive process. Mario may be oblivious to Yoshi's plan, but I know that a dolphin egg is about to be pooped out.
Maybe I'm wrong, and Yoshi is satisfied to simply jump on that dolphin's back. That still doesn't explain what Nintendo Power means when they say "Yoshi and Mario Fly 'Super' High." As far as I can tell, the duo is barely skimming the water. If jumping a few inches off the ground is all it takes to fly super high, then I need to update my resume immediately with a new skill.
I am certainly in the minority here, but this issue is the birth of my deep-seated distrust for Yoshi.