While Next Generation didn't have the lifespan of Electronic Gaming Monthly and Nintendo Power, the magazine did spend seven years influencing what we now consider modern-day games journalism. Over the next 85 episodes, we'll do our best to review every Next Generation cover and put the issue into proper context. Join us every Thursday for Next Generation Uncovered!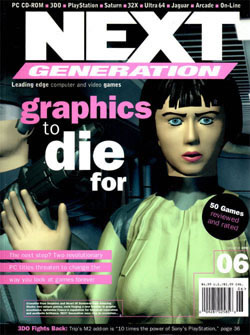 Click here to make larger!

Long before joining the Yeah Yeah Yeahs,
Karen O
was ... on the cover of Next Generation? Okay, so it's not the Academy Award-nominated singer on this cover, but you can't blame me for getting the two blunt-haired women confused. My first clue should have been that this cover girl is actually made up of polygons, not flesh and name-brand cosmetics. She may look real, but that's only because these are "Graphics to Die For."
Sure it's hyperbole, but Next Generation accurately points out how good PC games looked in 1995. This blue-eyed beauty is Sarah from Fade to Black, the sequel to Flashback: The Quest for Identity. She's representing a new breed of PC games that take advantage of 3D graphics cards. I'm not sure if Sarah is to die for, but she's a marked improvement over the 16-bit consoles most of us were playing at the time.
As is so often the case, great graphics only tell part of the story. Fade to Black (labeled here by its working title, Crossfire) is an incredibly disappointing sequel, marred by horrible gameplay and a nonsensical storyline. Who cares how good the cinemas look when playing the game is no fun? Forget graphics, I'm much more interested in gameplay that's to die for.
Still, Next Generation's point stands, regardless of the quality of one game. PC games were about to reinvent themselves, helping to shape the future of game consoles in the process. And even though this Karen O doppelganger is wearing frumpy clothing and unflattering eyeliner, I agree with Next Generation's assertion that the graphics are good. Too bad the game couldn't live up to this arresting cover.
Next Week:
Can the 3DO keep up with the PlayStation and Saturn? I guess you'll have to tune in next Tuesday to find out what game Next Generation used to punctuate this stupid question.