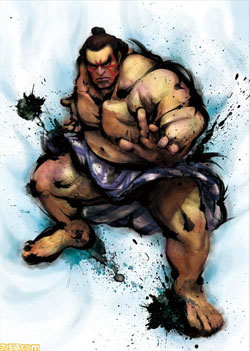 E. Honda (in Street Fighter IV)!
Have you ever wondered how old your favorite video game character will be when they die? Defunct Games puts that question to the test. By studying the lives of gaming's biggest stars, we are able to accurately predict when they'll croak.
(Note:
All characters start at 79 years old, the national average for life expectancy.
)
NAME:
Edmond Honda
BORN:
November 30, 1960
GAMOGRAPHY:
Although E. Honda is best known for being the fattest man in Street Fighter II, he's also been in a number of other games by several different companies. You can see him in Street Fighter IV, Street Fighter Alpha 3, Capcom vs. SNK 2, Street Fighter: The Movie, Marvel Super Heroes vs. Street Fighter, SNK vs. Capcom: Card Fighters Clash and countless Capcom compilation discs.
BIOGRAPHY:
Edmond Honda (commonly known as E. Honda) is a sumo wrestler who took part in M. Bison's World Warriors tournament. Initially he did this to prove that sumo wrestling was a legitimate sport worth paying attention to, but it turns out he had an ulterior motive. Edmond joined the tournament to investigate a secret organization that was funneling drugs into Japan. After defeating Bison, Honda went home and did what he does best -- eat!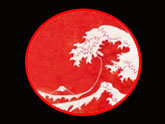 SINGLE MALE LIVING IN JAPAN
Although he's not married and has no
immediate prospects, Edmond Honda
lives in a country with a higher
life expectancy.


Adjustment: +3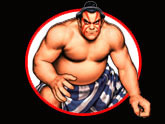 IS A SUMO WRESTLER BY TRADE
Despite being the best known sumo
wrestlers in the world, the fame comes
at a high price. His size and eating habits
increase his chances of heart disease.


Adjustment: -15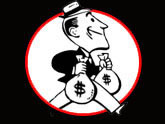 HONDA IS BAD WITH MONEY
Even though Honda has won multiple
tournaments, he still has to wrestle in
the back alleys for spare change. What
happened to the cash, Edmond?


Adjustment: -2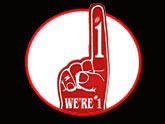 PARENTS PUSHED HIM TO BE THE BEST
He was forced from an early age to
be the best wrestler in Japan. His
parents didn't give him a break,
denying him friends and fun.


Adjustment: -1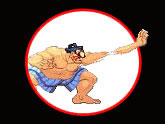 HE HAS FAST HANDS
Say what you will about his large frame,
E. Honda has the quickest slapping hands
in all the land. I'm sure that's practical
for something, right?


Adjustment: +2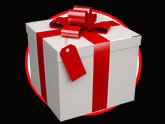 IS EXCEEDINGLY GENEROUS
E. Honda is known for helping his
friends in need and, according to
the Street Fighter II anime, giving
half of his winnings to Ryu!


Adjustment: +1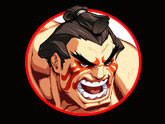 HE TAKES THINGS PERSONALLY
Part of the reason he shows up in
so many games is because he feels the
need to convince everybody that Sumo
is a real sport. Get over it, bro!


Adjustment: -3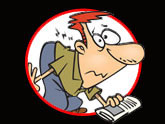 IMMUNE TO PAIN
If the movie is to be believed, Honda
(played as a Hawaiian) is impervious to
physical pain. He takes a beating, but
doesn't know when he's badly injured!


Adjustment: -6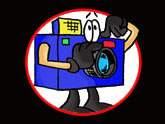 IS SKILLED BEYOND WRESTLING
In the Street Fighter movie, Honda is
a member of Chun Li's news crew. This
suggests he will have a back-up
plan once he's done with wrestling.


Adjustment: +2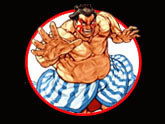 HE DOESN'T WEAR CLOTHING
Honda only wears face paint and a
large blue yukata. As his mother
always told him: Put some clothes
on or you'll catch a cold!


Adjustment: -3
Life Expectancy - 57 Years Old (1960 - 2017):
Despite being a lovable fighter, Edmond Honda's life will likely be cut short due to health concerns. Between his penchant for getting beat up and a long life of being morbidly obese, this World Warrior only has another four or five years left. A lifetime of promoting sumo wrestling will be overshadowed by the ill effects that sport had on his health.