J.J. & Jeff (Hudson)
[ Release: 1990 - Console: TurboGrafx-16 ]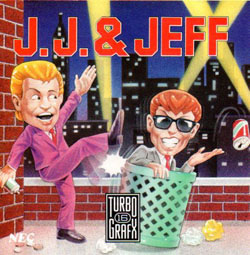 J.J. & Jeff (TurboGrafx-16)
Talk about being lost in translation. Believe it or not, the original Japanese version of J.J. & Jeff is based on a television show. It's true; this is a video game spin on the popular Japanese clip show, Fun TV with Kato-chan and Ken-chan. To make things even weirder, Vin Di Bona Productions used this that show as the building blocks to America's Funniest Home Videos. Now imagine that as a video game. The result is an absolutely loony 2D platformer. It's a game best known for its dirty sense of humor. Shockingly, this game never spawned a sequel. But who cares if it's a solo product, we're still going to press start and check out the first level of J.J. & Jeff!
Field 1-1 - City Park:
You see this smile? Well, don't you believe it. My name is Jeff and things are not what they appear. From afar it would seem like I have the perfect life. I'm a well-adjusted twentysomething who lives with his brother in the big city. I make a good living, affording me the opportunity to buy expensive suits and stylish sunglasses. I'm a catch. Any woman would be honored to date me, and I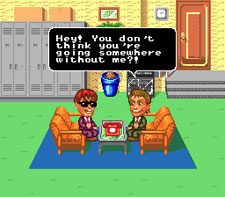 J.J. & Jeff - Fielf 1-1: City Park!
know it. At least, that's the impression I exude. In reality I'm just an adult loser that still lives with his older brother. My life sucks.
I'm the star of this lazy Sunday. I mope around looking for something to do. I could go out and be around the masses, but why bother? I make some food and then throw it away, I always feel guilty that I'm going to get fat. I see what J.J. is up to, but he's too busy talking to girls and being cool. What's the point of going on?
The phone rings. I choke down my tears and answer it, giving my all for this struggling detective agency. Apparently there's been a kidnapping. Some old dude has gone missing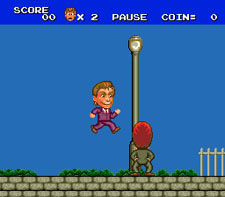 J.J. & Jeff - Fielf 1-1: City Park!
and we've been hired to find him. I put my drink down long enough to make an excuse not to take the job, but it was too late. Disappointed, I drag my heels all the way to my bedroom. Just because I'm putting my crime jacket on doesn't mean I want to.
The old man was last seen in the local park, so that's where I decide to launch my investigation. It's a beautiful day out; with blue skies and music in the air. I look around for my brother, but he's nowhere to be seen. I decide to start the investigation when all of a sudden something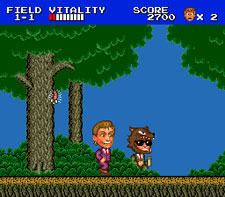 J.J. & Jeff - Fielf 1-1: City Park!
catches my eye. It's J.J. taking a leak on a traffic light. Utterly disgusted, I make my way to park's bathroom. Above me are birds circling, as if I have a giant target on my head. Before I have a chance to run for cover, the birds let out a volley of excrement that reminds onlookers of Pearl Harbor.
It's easy to see why how an old man could go missing in this park, what with the treacherous bottomless pits, killer bees and floating platforms. Whoever spent taxpayer money on these deadly obstacles needs to be fired. And that's just the beginning. As I advance through the level I quickly realize that I have to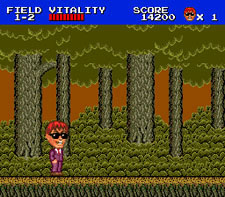 J.J. & Jeff - Fielf 1-2: City Park (Dusk)!
kick thin air to make floating platforms appear. Seriously, it's as if the parks and rec department is trying to thin out the city's population.
Field 1-2 - City Park (Dusk):
After battling birds, bees, bottomless pits and my own brother, I decide to sit down and take a nap. I'm not a lazy guy, but I'm in no hurry. After all, I might as well let my big brother catch up, it's better when we're a team. I intend to close my eyes for just a few seconds, enough to relax. Unfortunately, I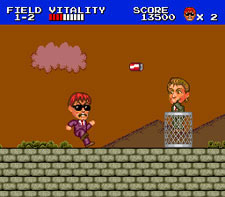 J.J. & Jeff - Fielf 1-2: City Park (Dusk)!
wake up to discover the sun going down and J.J. nowhere to be found. I start to panic. Where is my wallet? Who took my keys? I'VE BEEN ROBBED!! Oh wait, no I haven't. I decided to start my journey unprepared and left all the essentials at home. Silly me.
I'm pissed. Not only am I way behind in this investigation, but I'm at this stupid park instead of at home watching Celebrity Apprentice. I am so upset that I do the unthinkable: I kick a garbage can. And what comes flying out? A shiny coin. That's when I hatch my plan; I spend the rest of my time kicking every single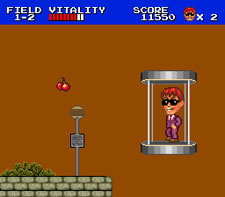 J.J. & Jeff - Fielf 1-2: City Park (Dusk)!
light fixture, door, tree, dog, fire hydrant, garbage and rock that I can find. Surely some of them will have coins to collect? Who knows, I could come away from this investigation with a pocketful of coins. I could totally buy a magazine. Well, maybe a newspaper.
Armed with my power, I double back and look for the way out of this godforsaken park. It's bad enough in the day, who knows what kind of creeps you'll find at dusk. Even before I finished that thought I knew the answer: J.J. is the kind of creep that hangs out at a park way too long. And there he is, throwing soda cans at the locals. I decide to rush past him, completely ignoring his childish behavior. But just as I'm about to leave the park for good I notice a large floating elevator. I could go home and see if this is Gary Busey's last week, or I could jump into the mystery elevator.
Field 1-3 - Sewer System:
I choose the elevator. It takes me down underneath the city park. Could this be where the old man went? I search for clues in the elaborate sewer system. As I hold my nose I see the usual suspects, including rats and trained killers. Wait ... trained killers? I keep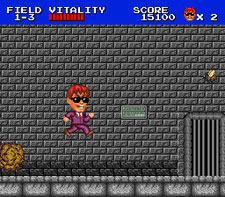 J.J. & Jeff - Fielf 1-3: Sewer System!
my distance from the one in front of me; I don't know what kind of weapon he's holding. I quickly move past him, no need to have anybody after me this early in the adventure.
As I search through the sewer I discover a number of troubling things, such as the cells holding human remains. If I was a better private investigator I might do something about this, but I decide to ignore it for now. I'm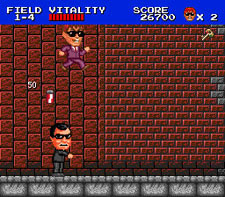 J.J. & Jeff - Fielf 1-4: Sewer System (Night)!
on a mission, and that's to find an old guy who might not even be in this sewer system. I feel like I'm on to something, those trained killers looked like they meant business!
Field 1-4 - Sewer System (Night):
The next part of the sewer is red. In a lot of ways it feels like I'm just walking in circles, but the paint job tells me otherwise. I guess it's to keep people from going crazy. On the other hand, I've heard that you shouldn't paint rooms red. I hear that it subconsciously triggers aggression. No wonder I want to get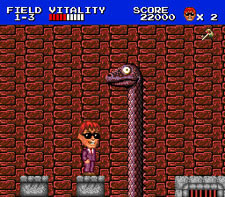 J.J. & Jeff - Fielf 1-3: Sewer System!
out of this sewer. But I can't just go back; I've made it too far. If I don't find this old guy I'm never going to get paid.
Up until this point I've been good about avoiding those trained killers. Unfortunately, my luck was about to run out. Perhaps it's because I was so excited to finally see the exit or maybe I'm just a klutz, but I accidentally stepped on a particularly noisy rat. The killers were alerts and my ass was cooked. My only salvation was to rush the elevator and hope for the best.
Thankfully I was able to get out of the sewer alive. It's night at the city park, which means that it's time to get home. At this point I don't care where J.J. is; I need to take a shower in an urgent way. I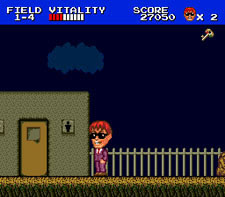 J.J. & Jeff - Fielf 1-4: Sewer System (Night)!
rush through the trees avoiding the spiders, boulders and campfires in my way. Before I get to the car I notice a trampoline with a sign pointing up. I see no other way around the trampoline so I decide to just go with it; it has to be better than sewer rats and trained killers. I leap on the machine and it shoots me into the air. Where will I land, I wonder?
Field 1-3 - Sewer System:
I look around. I recognize that smell and the brick walls. I look up at the heads up display and discover that I'm back in field 1-3. I'm dumbfounded. The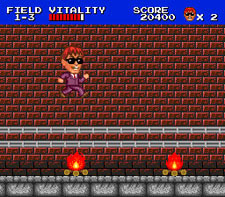 J.J. & Jeff - Fielf 1-3: Sewer System!
trampoline shot me into the air, so why would I be in the sewer? It makes no logical sense. I'm pissed. At this point I don't care about finding this old guy or J.J. ... I'm going home!
What Have We Learned Today:
As an objective observer, I would say that you should not turn to the J.J. & Jeff Detective Agency. Maybe it's the fact that they didn't do any actual investigating or that J.J. just goofed around the whole the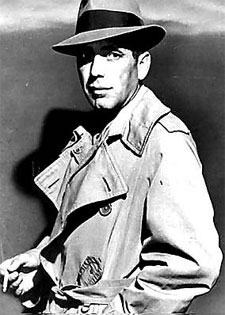 Even a pretend movie detective would have done some real investigating!
time, but there's something about the way they conducted themselves that sends a bad message. An old man's life is at stake and these guys fool around? I can't accept that kind of thing from professional detectives.
What Did We Miss:
Who knows, I called it quits the second time I had to repeat Field 1-3. As far as I know the next level could have us battling a tag team match-up of Dracula and the Teenage Mutant Ninja Turtles. It would be fitting, I already smell like Donatello. In my head the old man was never missing, the whole thing was a giant conspiracy to send these two losers on a one-way mission to Mars. No, that can't be what happens. This game would never be that interesting.
What Officer Johnson Says:
"We're still piecing together the time line, but it looks like a couple of vandals came through the park last night and tore up the place. As you can see the damage is extensive, from broken doors to soda cans lying around. These people were savages. So far we only have shoe marks to go on, but more evidence will turn up as the investigation widens. Currently we are not commenting on the rumors that we found a mentally deranged man muttering to himself in the sewers. Thank you for your time, I will not be taking any questions. Good day."