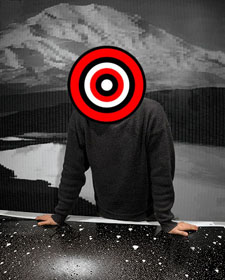 The picture of Jerry Terrifying is fake ... but the bullseye is real!
I like game shows. I know everybody looks down on the simplicity of game shows, but there's something about watching people win big money and prizes that still excites me. I'm especially fond of trivia game shows, the type of program that requires real knowledge and skill. Any idiot can choose a briefcase; I'm not here to see if you're lucky. I want to know that the money is going to the most deserving. Man, I love game shows.
I'm proud to introduce you to THE LEADERBOARD, the Defunct Games first weekly game show/podcast. You read that correctly, it's both a game show AND a podcast! For the next three months we will find random gamers and make them guess what popular game I'm thinking of. But don't worry; I'll give them a fighting chance. I'll read them a short review from a popular video game magazine. It couldn't be any simpler!
Today we're joined by Jerry Terrifying, the host and creator of the
Mondo Cool Cast
. This Ohio boy is the very first person to strap himself in and undergo the stress of THE LEADERBOARD! Find out how he did when you listen to this half hour pilot episode.
MORE RECENT DEFUNCT GAMES ARTICLES ...
---
comments powered by