As everybody travels to sunny southern California, Defunct Games wants to take you on a completely different journey. Let us guide you on a trip back to the very first Electronic Entertainment Expo, held in Los Angeles in 1995. Experience the grandeur of E3 through the eyes of old school magazines, including GamePro, Electronic Gaming Monthly, Die Hard Game Fan, Next Generation and Nintendo Power. It's a week of generational differences as Defunct Games takes you back to the very first E3.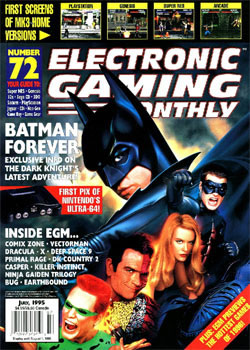 It's the very first Electronic Entertainment Expo and the excitement is palpable. The industry is finally being taken seriously, Sega shocked everybody with a surprise launch and Nintendo delayed the Ultra 64. With so many stories to cover, it's hard to know where to start. Unfortunately for Electronic Gaming Monthly, the long-running periodical began its E3 coverage with this baffling paragraph:

"Let's break tradition here and start with a disclaimer: The games featured on the following pages are not the best games as rated by the Review Crew. These pages are a compilation of the favorites from the show as determined by the EGM editors who attended. As of yet, there are no official endorsements by the Review Crew praising these games as the best. Got that?"

After six years and more than seventy issues, I'm pretty sure every one of EGM's readers understands the difference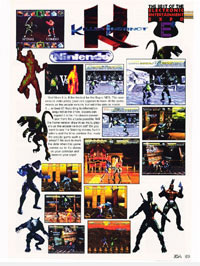 between a preview and a review. The Electronic Entertainment Expo may be new, but convention coverage isn't. It's the first E3 and Electronic Gaming Monthly couldn't be less excited.

The disclaimer was followed by a round of complaining: "After a hot and sweaty flight on a 'vacation' airline, sans airvents, no less, we arrived in Los Angeles on May 11 with visions of bad airline food dancing in our stomachs."

First-world problems aside, Electronic Gaming Monthly eventually settled into the familiar formula we've seen from years of Consumer Electronics Shows. After taking something for their upset stomachs, the EGM crew (which should not be confused with the "Review Crew") turned their attention to the games. "Everybody was anxious to see what the PlayStation had to offer," assures the magazines. "And we're glad we weren't left down." It may not be as in-depth as
Next Generation
, but at least they're done complaining about their flight.
Beyond a full-page summary of the event, EGM dedicated thirteen pages to the editor's top picks from the show. Unlike
Die Hard Game Fan's wall of pictures
, the Sendai-published magazine focused their attention on only a few games. The titles featured included Killer Instinct (SNES), Donkey Kong Country 2 (SNES), Dracula X (SNES), Vectorman (Genesis), Bug! (Saturn), Casper (3DO), Viewpoint (PlayStation), Destruction Derby (PlayStation) and Mortal Kombat 3 on everything.
real
reason the Ultra 64 is being delayed in North America could be due to orders from Nintendo of Japan." Yup.
The magazine also dedicated a full page to the Saturn's early release. But instead of digging deeper into this questionable decision, Electronic Gaming Monthly gave Sega the benefit of the doubt and presented only the good news. "Sega is dubbing the Saturn the Ferrari of video game systems. Close to 20 titles are already on store shelves in some locations, and more than 80 first- and third-party software titles are expected to hit retail shelves by Christmas this year." That's a world apart from what
Next Generation
had to say about Sega's E3 line-up.
Electronic Gaming Monthly's event coverage can best be described as aimless. It's page after page of generic preview babble mixed with rewritten press releases masquerading as news. Thankfully, the magazine eventually broke out of this cycle and led a new wave of opinionated E3 previews. I'll take that over another fluff piece about the Super NES version of Dracula X.