As everybody travels to sunny southern California, Defunct Games wants to take you on a completely different journey. Let us guide you on a trip back to the very first Electronic Entertainment Expo, held in Los Angeles in 1995. Experience the grandeur of E3 through the eyes of old school magazines, including GamePro, Electronic Gaming Monthly, Die Hard Game Fan, Next Generation and Nintendo Power. It's a week of generational differences as Defunct Games takes you back to the very first E3.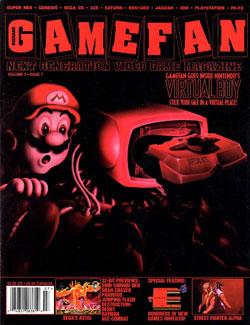 Just because 1995 was the first year of the Electronic Entertainment Expo, that doesn't mean game journalists went in completely cold. By this point, the hard-working staff at Die Hard Game Fan were already seasoned veterans of the convention circuit, thanks in large part to many years covering both Winter and Summer Consumer Electronics Shows. This may have been the first E3, but everybody knew what was expected of them.

While some magazines focused on games, Die Hard Game Fan was completely taken in by the glitz and glamor of E3. Long before mentioning Sega's surprise Saturn launch or the Nintendo 64 delay, this enthusiastic rag gushed over seeing Steven Spielberg, Michael Jackson and Seal, "who sang (dramatically I might add) at the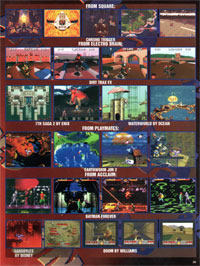 Nintendo gathering at the Biltmore." I'm sure the pairing of Nintendo and Seal made more sense two decades ago.

Die Hard Game Fan may have been star struck, but celebrity crushes quickly made way to real game coverage. And let me tell you, when the Monitaur covers E3, he goes BIG. Forget GamePro's measly fifteen pages of previews and announcements, because Game Fan attempts to cover everything with a 25 page spread.

Die Hard Game Fan wasn't selective when it came to what they covered; they simply scooped everything up in their giant nets and puked it on page like a Jackson Pollock painting. Forget thoughtful blurbs about the quality of each game; most titles were reduced to little more than a screenshot or two. It was a free-for-all where you could go from pictures of Weaponlord to Lunar to Real Monsters and Waterworld. There was no rhyme or reason, it was just page after page of overwhelming visuals.

Occasionally, Die Hard Game Fan would go that extra step and actually write something about their favorite upcoming games and systems. But don't get too excited, because they only did this for a handful of games. Here are a few of Game Fan's thoughts on what they saw and played at E3 1995 ...


RAYMAN ARRIVES
"The first cross platform mainstream character for the next generation consoles, Rayman, makes his Saturn debut this September. Each version of Rayman is slightly different with the Saturn game in a dead heat for early platform supremacy beside the formidable PlayStation version. Judging by the early responses we have received this multi-joined little super dude, Rayman is headed for platforming notoriety right up there with the best of them."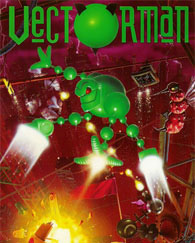 VECTORMAN (GENESIS)
"Although these shots don't do the game justice, what you're looking at is one of the most (if not the most) incredible Genesis games of all time, Vector Man. Blue Sky has managed to squeeze more out of the Genesis hardware than I thought possible, surpassing even Treasure in the area of gameplay and special effects. Masterworks like Vector Man will live on forever on Sega's 16-bit handheld which is due out in January '96."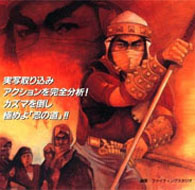 SHIN SHINOBI DEN (SATURN)
"My personal goal at E3 was to finally play the Saturn version of Shinobi; Shin Shinobi Den. On the last day I finally got my brake [sic] and one of my buddies at Sega revealed the magic disc. I knelt on the floor and played through the viewfinder of my video camera in total amazement, what a game this is going to be! It's pure Shinobi, with Saturn powered graphics and music."
For an article spanning 25 pages, Die Hard Game Fan only managed a few hundred words of text. A vast majority of games were given no introduction or context. The magazine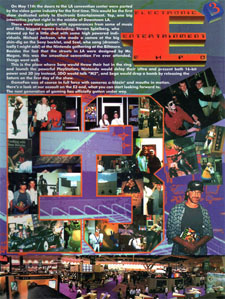 spent more time gushing over Seal's soulful "Kiss From a Rose" performance than talking about Mortal Kombat 3, Earthworm Jim 2, Defender 2000 or Panzer Dragoon.

Much like
GamePro E3 coverage
, Die Hard Game Fan featured almost no photos from the show floor. There are only two pages featuring candid shots, and even that is mostly focused on celebrities like Steven Spielberg and Michael Jackson. Most pictures of E3 were too small to make out, and their nonsensical layout gives me a headache. Instead of pictures of booths, Game Fan delivered 501 screenshots of questionable quality.
Despite not saying much about the titles they previewed, Die Hard Game Fan did manage to come up with a list of the best games found at E3 1995. Each editor had a chance to pick a winner for game of the show, but, appropriately enough, no room to explain why. E Storm chose Shinobi on Saturn, Kid Fan went with Legacy of Kain on PlayStation, The Enquirer chose the Super NES version of Killer Instinct, Nick Rox loved Chrono Trigger on Super NES and K Lee chose Jumping Flash on PlayStation.
Beyond the spectacle of the show, the very first E3 was an eye-opener for the editors at Die Hard Game Fan. "Anyone who attended the E3 show walked away with a firm belief that 32-bit has finally arrived in full force, and is such a major leap in technology that it may truly change the face of home entertainment forever," writes one very enthusiastic Dave Halverson. "I, for one, am more excited about video games than I have ever been, because they are evolving along side [sic] the people who made them what they are today."