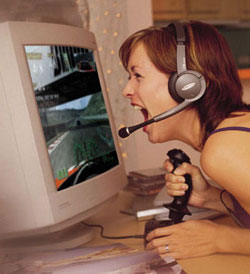 Stressed out?
While many people use video games to relieve the day-to-day stress of the real world, we all know that sometimes the games themselves are the real problem. Bad checkpoints, games that don't auto save and frustrating difficulty spikes are just a few of the reasons video games can make you want to pull out your hair.
But don't worry, because some of the biggest publishers in the world have you covered. Over the last two decades, some of the biggest players in the video game industry have given out simple (and effective) stress balls as convention swag. I'm talking about companies like Sega, Microsoft, 2K Sports and more, all hoping to help you relieve some stress and remember their name.
In this episode of A Brief History of Gaming, we thought it would be fun to take a look back at six of the most memorable video game stress balls. Will Sega finally come out on top? Does the size and shape matter? Do these balls even relieve stress? All these questions will be answered as we dig into The Great Video Game Stress Ball Test!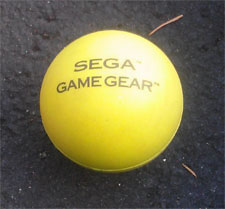 The Design:
First picked up at the 1993 Winter Consumer Electronics Show in Las Vegas, this rare Sega trinket got the (stress) ball rolling. This is your basic stress ball, right down to the all too familiar yellow exterior. The ball is soft and doesn't put up much of a fight, though that may have something to do with its age.
Cause for Stress:
Despite offering a strong library of 8-bit games, full Sega Master System support, a color screen and TV tuner, the Sega Game Gear was ultimately doomed to follow a distant second against Nintendo's Game Boy. Many of the system's best games came too late, failing to help Sega keep their first portable system alive. Most Game Gear titles, regardless of quality, were pushed to the back of the magazines and left to die with little to no advertising. Sega eventually pulled support and left the system to shrivel up and die.
Final Thoughts:
This stress ball also works when thinking about the Sega CD, Sega 32X, Sega Saturn, Sega Nomad and, of course, the Sega Dreamcast. Each is stressful in different ways.
The Design:
You wouldn't know it by looking at it, but this ergonomically savvy oil barrel is a stress ball. The black exterior helps sell the illusion, though all it takes is one touch and you'll see this for the squeeze toy it is. A modestly-sized logo is placed on both sides of the barrel and there are two tiny dots on the top. Of the stress balls demonstrated in this article, Frontlines: Fuel of War is by far the hardest.
Cause for Stress:
Despite some clever ideas (including the ability to pilot a variety of remote controlled vehicles), Frontlines didn't exactly take off. Critics were disappointed by the game's multi-player focus and consumers didn't give it a chance. The game's me-too gritty military look felt all too familiar, even in 2008. The developers would later go on to make 2011's Homefront, the much-maligned big budget disaster for THQ. Developers Kaos Studios was closed permanently on June 13, 2011, a mere two days before the release of Homefront.
Final Thoughts:
I'm not afraid of this black oil barrel. It sits on my shelf where it's safe, no matter how many people decide to shoot up my office. Every day of my life I thank Kaos Studios for not handing out red oil barrels.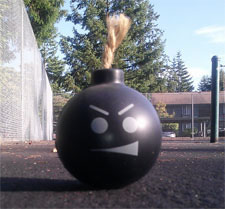 The Design:
Finally, a video game stress ball with a little whimsy. Designed to look like a Serious Sam bomb (The kind of thing you might see in an old-timey Looney Tunes cartoon), this stress ball comes with an angry face and a real fuse to light. But don't light it, because I'm pretty sure the fumes from the foam substance are toxic. The bomb's flat bottom means you can easily display it on your desk, automatically making this the best stress ball tested for this article.
Cause for Stress:
While things may have looked good in 2002, this Take-Two Interactive publisher was doomed to put out one uninspired licensed game after another. It's one thing to make horrible games based on Starsky & Hutch, Austin Powers, and Celebrity Deathmatch, but I draw the line at The Great Escape. When not polluting the world with a fake Marilyn Manson made out of fake clay, they wanted you to get your ass blown up in the warzone. Spec Ops: Airborne Commando, Serious Sam and two Conflict: Desert Storm games kept the company alive just long enough to be relevant.
Final Thoughts:
Given the quality of games like Piglet's Big Game and Austin Powers Pinball, this bomb seems oddly apropos.
John Deere Harvest in the Heartland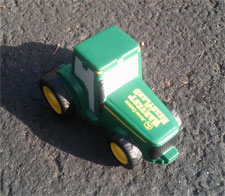 The Design:
The award for most uncomfortable stress ball goes to John Deere Harvest in the Heartland. Shaped like John Deere tractor, this green and yellow monstrosity actually hurts the hand when held. The large back tires, tall cabin, flat bottom and thin body make squeezing it nearly impossible. This is the first stress ball that has actually made me MORE stressed out!
Cause for Stress:
Destineer hoped it would be the next Harvest Moon, but John Deere Harvest in the Heartland never bloomed. This Nintendo DS simulator was riddled with technical problems, including some save issues and lots of loading screens. It also turned out to be no fun, forcing players to perform endless amounts of pointless tasks for little reward. Forget Harvest Moon, this Destineer stinker was no match for the Farmville juggernaut.
Final Thoughts:
If you're the kind of person that would rather tend to fake crops than shoot space aliens, then you probably don't have enough stress in your life to make this John Deere trinket worth your while.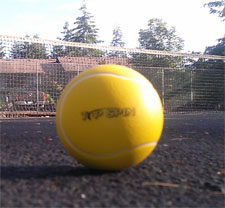 The Design:
Microsoft didn't have to work very hard to turn a Top Spin tennis ball into a stress ball. Here we see the typical yellow parted by thin white lines that make it look like a tennis ball. But don't be fooled, because this teeny tiny stress ball won't help you on the tennis court. This is a boring design that is only made worse by its small size.
Cause for Stress:
Despite being a modest hit, Top Spin has bounced from company to company. First published by Microsoft (as part of their XSN Sports network) on the Xbox, these days Top Spin is known as a 2K Sports series. Even more stressful is the closing of PAM Development, the company responsible for most of the Top Spin releases. And while Top Spin 4 may have won over the critics on the Xbox 360 and PlayStation 3, the Wii port failed to make the grade. Top Spin has always been a franchise overshadowed by its tennis competition.
Final Thoughts:
Much like the video game series it's based on, you probably shouldn't use this stress ball for your tennis needs.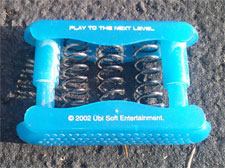 The Design:
Neither a ball nor very stress relieving, this Ubi Soft Entertainment trinket is the worst of both worlds. Instead of opting for a foam substance, the France-based software maker opted for plastic connected by springs. This is a bad choice, as the sides tend to stick and the device is uncomfortable to hold. This is one of the few pieces of Ubi swag to use the short-lived slogan, "Play to the Next Level." Also interesting, the copyright opts for the unorthodox "Ubi Soft" spelling instead of the more traditional "Ubisoft".
Cause for Stress:
Ubisoft may be the home to several big name franchises, but that doesn't make them immune to the ups and downs of the games industry. Recently we've seen the company struggle to recapture their footing after several major flops, division closings, rumors of a hostile takeover, disappointing returns on Rayman and much more. These days you're more likely to hear Ubi complain about the lack of original games than actually make original games. And what exactly is the publisher going to do now that Assassin's Creed is wrapping up?
Final Thoughts:
Perhaps if Ubisoft had used traditional foam (and not cheap plastic and springs) Rayman Origins would have been a bigger hit.