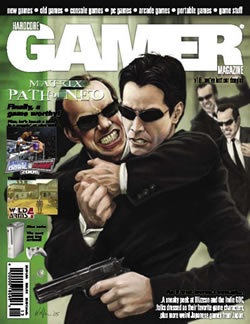 Click here to make larger!
Cover Story:
I don't know about you, but I don't really care where the Path of Neo leads me. Knowing The Matrix, this path probably leads me to a disappointing ending where everybody dies and the entire audience boos. But then again, when Hardcore Gamer Magazine put Path of Neo on their cover they didn't know how terrible the final Matrix movie was going to be. So don't hold that terrible movie against HGM!
Reviews:
The Warriors, L.A. Rush, Blitz: The League, Suikoden Tactics, Myst V: End of Ages, Shadow of Colossus, PRG Maker 3, Lost in Blue, Sniper Elite, Capcom Classics Collection, SSX On Tour, Metroid Prime Pinball, Without Warning, and much, much more!
Special Features:
This month's Hardcore Gamer Magazine has all the usual goodness, including a look at the arcade scene, import reviews, fan art and much more!
DOWNLOAD THIS ISSUE IN PDF FORMAT