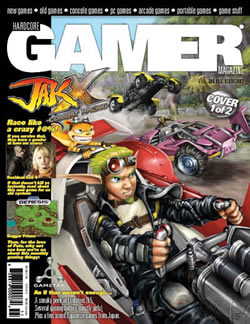 Click here to make larger!
Cover Story:
Stop me if this sounds familiar, first party company decides to capitalize on the success of their popular platformer and turn it into a (wait for it) racing game! Yeah, I know, it's not that original of an idea, but maybe Jak X will actually be a lot of fun. At least they aren't racing go karts, right? In this Jak X centric issue of Hardcore Gamer Magazine we learn why we should care about Sony's newest racing game!
Reviews:
Resident Evil 4 (PlayStation 2), Indigo Prophecy, Burnout Revenge, Virtua Tennis, X-Men Legends II, Castlevania: Dawn of Sorrow, MotoGP 3, Trauma Center, Grip Shift, Beggar Prince, and more!
Special Features:
This month's Hardcore Gamer Magazine has all the usual goodness, including a look at the arcade scene, import reviews, fan art and much more!
DOWNLOAD THIS ISSUE IN PDF FORMAT