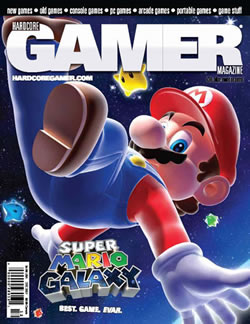 Click here to make larger!
Cover Story:
Eleven years ago, Next Generation stunned American gamers by naming Super Mario 64 the "Top Videogame of All Time." Fast forward nearly a dozen years and we have Hardcore Gamer Magazine proudly proclaiming Super Mario Galaxy the "Best. Game Ever." High praise indeed. But is Super Mario Galaxy really better than the The Legend of Zelda: Ocarina of Time? Or what about the original Soul Calibur? Will it be better than the upcoming Grand Theft Auto IV? HGM seems to think so, and maybe that should be enough to get you to check out this newest issue of Hardcore Gamer Magazine!
Reviews:
This December issue features reviews of Silent Hill Origins (PS2), The Orange Box, Mass Effect, Final Fantasy XII: Revenant Wings, Universe at War: Earth Assault, Beautiful Katamari, Zach & Wiki, Kane & Lynch, and more!
Special Features:
On top of the Super Mario Galaxy coverage, this issue of HGM offers a big feature about game swag and casual games. You will also find previews for Little Big Planet, Killzone 2, Time Crisis 4, and others.
DOWNLOAD THIS ISSUE IN PDF FORMAT