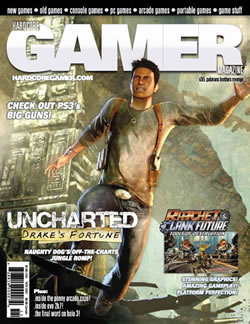 Click here to make larger!
Cover Story:
The PlayStation 3 finally has a game worth putting on the cover! All snarkiness aside, issue 29 features one of Sony's best games of 2007, Uncharted: Drake's Fortune. This lengthy write-up offers up a convincing argument why this game should be in your collection ... even if you don't own a PlayStation 3. The Hardcore Gamer Magazine staff is impressed with this game, and they think you will be too. Why not let them try and convince you?
Reviews:
Halo 3, Juiced 2: Hot Import Nights, John Woo Presents Stranglehold, Syphon Filter: Logan's Shadow, Hot Pixel, Final Fantasy Tactics (PSP), and many more!
Special Features:
Not only do you get a convincing argument for Uncharted: Drake's Fortune, but you also get a big blow-out feature about the Penny Arcade Expo 2007. Find out why you should have been to the biggest (and best) gaming convention of the year. Not top of that we are also given previews of Culdcept Saga, Devil May Cry 4, Left 4 Dead and many other exciting titles!
DOWNLOAD THIS ISSUE IN PDF FORMAT