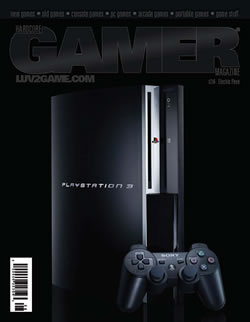 Click here to make larger!
Cover Story:
Hardcore Gamer Magazine takes a look at Sony's newest console, the PlayStation 3. Is it worth the six hundred dollars? And what about the games? What does the future of the PS3 look like compared to the Xbox 360 and Wii? Will Sony be able to keep their dominance over the video game arena intact with this expensive console? Find out now when you read Hardcore Gaming Magazine's 18th issue!
Reviews:
Guitar Hero II (Xbox 360), Bully, Mortal Kombat: Armageddon, Flight Simulator X, Power Stone Collection, Ace Combat X: Skies of Deception, Killzone: Liberation, Lumines II, Mega Man ZX, Gunpey, WTF: Work Time Fun, and much, much more!
Special Features:
This month's Hardcore Gamer Magazine has all the usual goodness, including a look at the arcade scene, import reviews, fan art and much more! Hardcore Gamer Magazine also looks at the Tokyo Game Show and a fan-made caveman fighting game (you read that right)!
DOWNLOAD THIS ISSUE IN PDF FORMAT