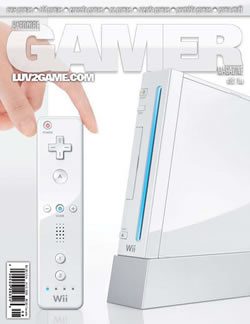 Click here to make larger!
Cover Story:
In this month's issue of Hardcore Gamer Magazine the boys look at the console everybody is talking about: Nintendo's Wii! How does it control? What games are coming out for it? Is it really a step forward for video gaming? While it's a bit too early to tell if the Wii is the greatest game system of all time, you can't argue against the fascination surrounding Nintendo's newest console!
Reviews:
Blade Dancer: Lineage of Light, Juiced: Eliminator, Guilty Gear: Dust Strikers, MotoGP 06, Rise of Nations: Rise of Legends, Mega Man Battle Network 6, and more!
Special Features:
This month's Hardcore Gamer Magazine has all the usual goodness, including a look at the arcade scene, import reviews, fan art and much more! It's HGM's huge post-E3 issue; find out what the guys thought of the newest games and systems!
DOWNLOAD THIS ISSUE IN PDF FORMAT