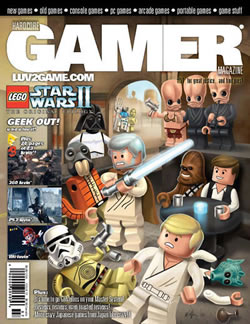 Click here to make larger!
Cover Story:
May the force be with you! This is Hardcore Gamer Magazine's Lego Star Wars II issue, featuring cute little Lego character from the original Star Wars trilogy (the good Star Wars trilogy). Is this the game Star Wars fans have been waiting for? Actually, it is ... and best of all you can own it on pretty much every console under the sun!
Reviews:
New Super Mario Bros., Legend of Heroes II, Over the Hedge, Hitman: Blood Money, Darwinia, Monster Hunter Freedom, Urban Chaos, and more!
Special Features:
This month's Hardcore Gamer Magazine has all the usual goodness, including a look at the arcade scene, import reviews, fan art and much more! It's HGM's huge E3 issue, find out what the guys thought of the newest games and systems!
DOWNLOAD THIS ISSUE IN PDF FORMAT