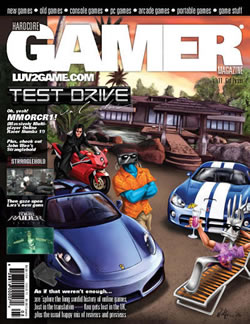 Click here to make larger!
Cover Story:
It's Test Drive: Unlimited, the very first Massively Multiplayer Online racing game for the Xbox 360! In this issue of Hardcore Gamer Magazine the editors rave about Atari's newest next generation racing game, a title that promises to change the way we all look at racing video games! Can Test Drive: Unlimited live up to the hype? Find out now when you read this eleventh episode of Hardcore Gaming Magazine!
Reviews:
Me and My Katamari, Splinter Cell: Essentials, The Godfather, Warpath, Ghost Recon: Advanced Warfighter, Syphon Filter: Dark Mirror, Viewtiful Joe: Red Hot Rumble, Tycoon City: New York, and more!
Special Features:
This month's Hardcore Gamer Magazine has all the usual goodness, including a look at the arcade scene, import reviews, fan art and much more!
DOWNLOAD THIS ISSUE IN PDF FORMAT