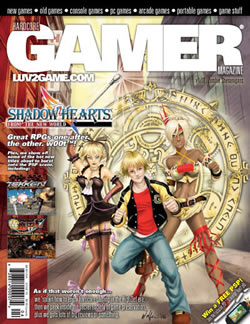 Click here to make larger!
Cover Story:
Isn't it about time somebody looks at all of the upcoming role-playing games? That's exactly what Hardcore Gamer Magazine does in this tenth issue. We're talking about Final Fantasy XII, Shadow Hearts and many, many more. Can you handle all of that leveling up? Find out now when you check out this tenth issue of Hardcore Gamer Magazine!
Reviews:
Metal Gear Solid 3: Subsistence, Kingdom Hearts II, Daxter, Burnout Revenge, Top Spin 2, Metal Gear Ac!d 2, Ys: The Ark of Napishtim, Pursuit Force, The Outfit, Suikoden V, Metal Saga, Fifa Street 2, and much, much more!
Special Features:
This month's Hardcore Gamer Magazine has all the usual goodness, including a look at the arcade scene, import reviews, fan art and much more!
DOWNLOAD THIS ISSUE IN PDF FORMAT