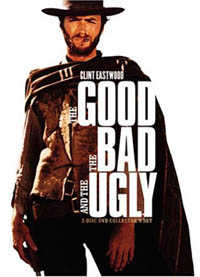 It really is a little shocking that they haven't made a game out of this movie!
In Clint Eastwood's fifty year film career he has made a lot of memorable Westerns. But few are as universally praised as the 1966 classic, The Good, The Bad, and The Ugly. Under the direction of Sergio Leone, Clint Eastwood was able to define himself as one of the most endearing actors of that era. Even though he has found his way into over 40 different movies since then, it's The Good, The Bad, and The Ugly that people seem the most connected to. As of this writing it holds the #17 position on IMDb's Top 250 Best Movies List, higher than any other Clint Eastwood film.
It's such a great movie that it shouldn't surprise anybody that it has found its way into the video game industry on more than one occasion. Unfortunately, none of those times have been in actual video games ... where it would make sense. Instead, two different magazines have adopted sections using the name "The Good, The Bad, and The Ugly", to talk about video games.
In the April 2005 issue of Official U.S. PlayStation Magazine the editors introduce your readership to a section that just happens to be named after this seminal 1966 Western. In this article they look at the "Good" first person shooters, they look at the "Bad" first person shooters, and then, you guessed it; they looked at the "Ugly". One is left to assume that this feature will be brought back for fighting games, adventure games, and any other kind of genre not covered by the letters "FPS".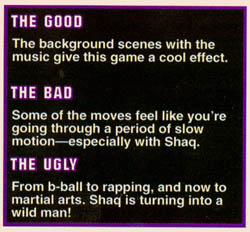 Years earlier Electronic Gaming Monthly had their own section devoted to Clint Eastwood's classic film, only this time it was featured in all of the game previews. To illustrate this point we have scanned this section from EGM's 52nd issue, November 1993. Here you have "The Good, The Bad, and the Ugly" for a little game you might have heard of called Shaq Fu, featuring an extremely large basketball player who thought he could act, rap, advertise, AND star in video games all while pursuing his NBA career ... but he couldn't.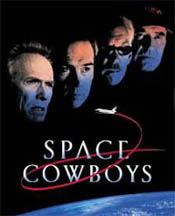 Alright magazines, I dare you to make an article out of Space Cowboys!!
Thankfully these two magazines are a dozen years apart ... but it does beg the question: why just that movie? Why not come up with something original, like a section called the Magnificent Seven, where you talk about seven ground breaking games? Or perhaps you could go another way and pull inspiration from Clint Eastwood's Two Mules for Sister Sara, where you tell gamers what two games to trade in to get a much better (and Catholic) video game. Perhaps that's too obscure, so why not Hang 'Em High? I'm sure they could come up with any number of creative articles using that title. Same goes with Heart Break Ridge, an article that could chronicle all the games you waited years for only to be disappointed.
Or perhaps these game magazines can take this love for classic Westerns and ask game makers to focus some attention on this forgotten time period. Just imagine how cool a fully realized game of Fistful of Dollars would be? I'd rather play a game based on the old Rawhide TV show than suffer through two magazine articles that have nothing to do with this amazing film. It's time for these magazine editors and writers to be more creative ... but we already knew that.