With all the talk about Sega's forthcoming Shinobi game, I figured I would go back and take a look at the previous incarnations. However, it was Revenge of Shinobi that caught my eye. Not because it was a better game, not because it has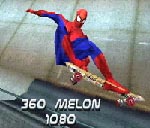 better game play, and certainly not because it has better graphics ... but because there's one thing that Sega seemed to do while making this game. The Revenge of Shinobi team obviously watched a whole lot of movies while programming this game. Be it Rambo, Terminator, or even Spider-Man, they were obviously engrossed in a bunch of outside influence.
Of course, to be fair, Spider-Man was licensed by Sega of America at the time, and Activision, chose to introduce Spidey as a cameo character. This approach was used in Tony Hawk's Pro Skater, and will likely continue throughout history, especially with the world wide success of the 2002 feature length movie.