It just wouldn't be an E3 without booth babes. Although they are usually failed actresses or models, these women still have the assets to draw large groups of men over to their section. Unfortunately, most of the men only see the girls and don't remember the products they are pitching, but that doesn't keep companies from spending the big bucks to get these girls to stand around in next to nothing and pose for pictures.
E3 2005 was no exception, just about everywhere you looked there were scantly-clad models waving you into their booths. Some may find this exploitation to be offensive at best, but Defunct Games wasn't going to be left behind when it came to talking about booth babes. With the help of a loyal (and energetic) staffer, we decided to document our adventures in the shadow of the booth babes.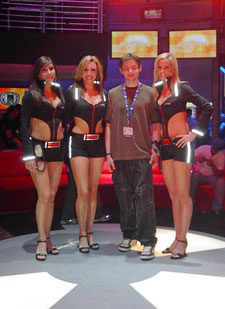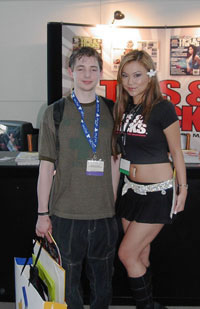 As we begin our journey it's important to get to know Patrick O'Connor. Now here is a young man who if nothing else is full of energy and vigor. This is a guy who has put a lot and time into making Defunct Games look good, so we found it only appropriate to reward him by having him pose in all these photos. Oh sure, these girls would look good on their own, but when you see Patrick in the mix you know it's for Defunct Games. Patrick hoped posing for pictures with the models and actresses might help him land a lead in a Hollywood movie ... still waiting for the call back on that one.
As you can tell by the pictures above, Patrick is no stranger to pretty girls. No matter what nationality, this is a guy who was more than willing to nestle up to these skinny girls. Unfortunately, he was a little nervous about getting his picture taking, so the first few snapshots had him with his eyes closed. Perhaps it was stage fright or the fact that there were three of them, but whatever the case Patrick was unable to keep his eyes open for the first picture (above, left). What you didn't see was Patrick looking over the girls outfits and extolling the virtues of small collars.
By the second picture (above, right) Patrick had conquered his fear of the opposite sex. Here he is with an attractive Asian model trying to promote the Tips & Tricks magazine. It's worth noting that Tips & Tricks was the only magazine with booth babes, perhaps putting the emphasis on the word "Tricks." Patrick didn't seem to care that she was alone, he was more interested in the flower in her hair and that perfume she was wearing. Or maybe he was just happy that he finally found a use for Tips & Tricks.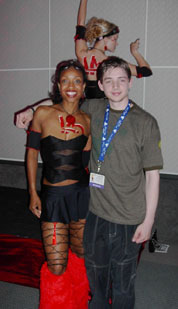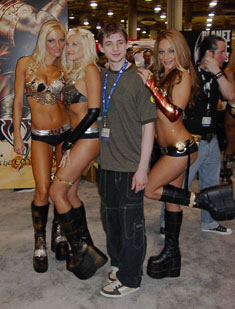 After spending too much time walking up and down looking for magazine booth babes, Patrick decided to pick up some bottled water at the Pelican booth. Unlike most booths on E3's show floor, Pelican had their own room overlooking the West Hall (where Nintendo and Sony show there wares). Here they were giving out cold water, a life-saver when you're at an event such as E3. They also had a live DJ and a set of dancers. In the third picture (above, left) you see Patrick completely ignoring (and blocking) the live dancer in order to get his picture taken with a hot Nubian princess.
By the third picture I could sense that Patrick was loosening up a bit. He had no problem putting his arm around the dancer with big, red shoes and was ready to take on E3. He decided it was time to go back and find another group of booth babes to show the world that he could do it without keeping his eyes closed.
In the fourth picture (above, right) it was clear that Patrick had found his stride ... and a few hot girls that kind of looked like they were into him. Well, now that I look at the picture it actually looks more like one of them is into him, and the others are more interested in each other. But damn, it sure does look like the one on the right is the girl going home with Patrick ... but Patrick wasn't going to have any of that, and let her down gently.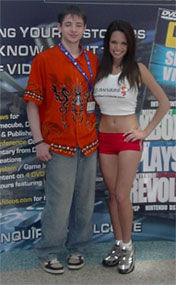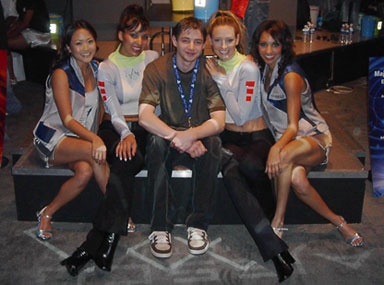 When you can't afford more than one booth babe, you might as well have the girl with the largest breasts working for you. Oddly Patrick had no problem finding her (above, left), and definitely wanted a picture to remember the experience. If there's anything you can expect from a trip to Los Angeles, it's girls with extremely unrealistic proportions. Of course, while most people paid attention to her large assets, I noticed that she was sporting some comfortable shoes ... something a lot of booth babes probably wish they had.
After peeling Patrick away from the large-chested girl from the last picture, he found a bunch of booth babes taking a break talking about whatever it is they talk about. Seeing them gossiping and relaxing didn't stop Patrick from jumping right in the middle of them for the sixth picture (above, right). Oh sure they smile for the camera, but you should have seen them chase him after the flash went off. Had they been wearing comfortable shoes Patrick would have never stood a chance of getting away.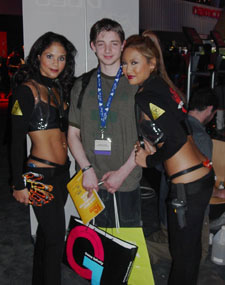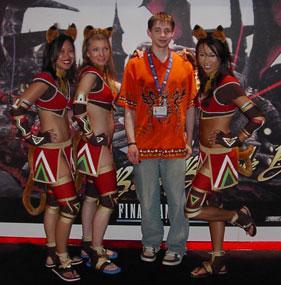 By the time Patrick got to the South Hall he realized he had lost the crazy group of booth babes chasing him. It was only after taking a short rest that Patrick ran across these two leather-clad hotties (above, left). Patrick was really impressed with these two, talking to them for quite awhile. Perhaps even more impressive was the fact that they weren't completely disgusted by the amount of sweat and perspiration coming from Patrick.
Perhaps it was his funky odor that attracted this roving band of Final Fantasy XI booth babes (above, right). With weird skirts, furry ears and tails, these girls were less booth babes and more cos play disasters. At first Patrick was excited to be so close to these FFXI characters, but as they started to talk to him in broken gibberish he started to realize that he might have taken a wrong turn. He was able to get one picture taken of him, but as you can tell he was as stiff as a board (and not in a good, healthy kind of way).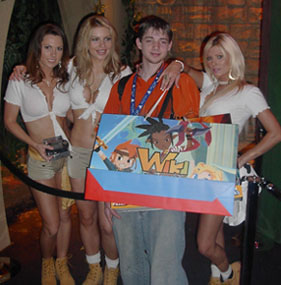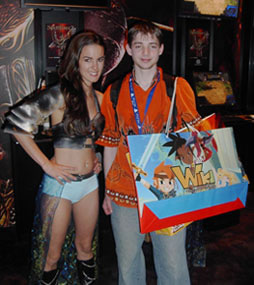 Around the time Patrick got to the ninth picture he had somehow picked up an extremely large bag with the name Wiki on it. To this day Patrick hasn't a clue what Wiki is, but he does realize that he should have put the bag down when getting his picture taken with these women in white (above, left). You can almost hear the cameraman yelling at him to put the bag down, it's blocking one of the girls and is really distracting. And really, couldn't you have just picked up an Xbox 360 bag like everybody else? What's the deal with Wiki? I mean, HONESTLY!
Of course, the bag wasn't so bad when Patrick was only hanging around one girl at a time (above, right). Now this booth babe was really happy to see Patrick, it was almost as if he was the first guy to give her any attention at all. She went on and on about her thoughts on the show all while Patrick pretended to be interested. It was only after ten minutes had passed that Patrick finally found the strength to move on to the next conquest ... but not without her shedding a few tears and begging him to not leave.
[MORE]