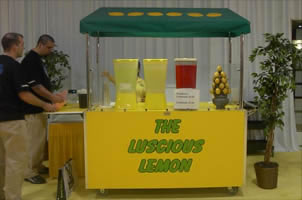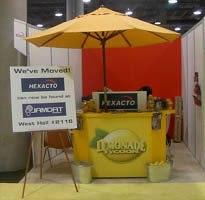 Every so often we like to take on the really hard questions. The ones that have stumped humans for years. Questions that make us understand the complexity of our surroundings, and make us think in a new way. That's why I went on my journey to finally answer one of the greatest questions to plague mankind: how many lemonade booths can one block hold?
While attending this year's Electronic Entertainment Expo I ran across a booth delivering information about the PC game Lemonade Tycoon. Similar to Railroad Tycoon or other games in the long running "Tycoon" series, this lemonade stand simulator allows you to control the contents of what you sell, where you sell it, and how much you charge. It's a dream come true for anybody who grew up without a street or neighbors.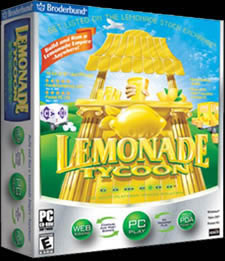 But as I learned more about Lemonade Tycoon, I noticed something funny just a little to the left of me. It was ANOTHER lemonade stand. Except this stand was actually selling lemonade. Of course, it was going for nearly $5 a glass, which I'm sure more than a few people begrudgingly paid.
But I wondered, is there bad blood between the two stands? Neither seemed to have much of a sense of humor about the subject, adding that a lot of people have confused the two (possibly due to the margarita stand just down the way). The person at the Lemonade Tycoon booth did offer the insight that they felt the lemonade stand was charging too much for their drinks, which were too sugary.
One thing both booths could agree on is that they had never heard of Lemonade Stand, the punk band hailing from San Francisco. Even after singing a few bars of Grandpa Can't Drive, I came to the conclusion that it was just not meant to be (one did like the Lemonheads, if that counts).
For now it looks like two lemonade stands can live together without too much of a fight ... but one has to wonder what would happen with a third stand taking the sales away. I guess this important question will just have to be answered by another brave soul.