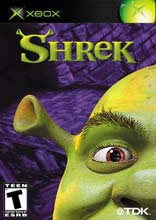 It used to be so simple, just let the Disney movies infest the food world. Oh sure, the occasional Nintendo cereal, or worse, Gummy Sonic would come and go, but when it came to fast food it was movie and music tie-ins. But with the release of Microsoft's X Box, it looks like this trend is about to be booted out the window. Through the tried and true scratch card system, Taco Bell is ready to give away X Box units with four games. Tony Hawk's Pro Skater 2x, Amped: Freestyle Snowboarding, Project Gotham Racing, NFL Fever 2002. Heck, they even have a web site devoted to this project, but you still have to visit the store.
But wait, that's not all. It seems as though you can win an X Box if you buy either the VHS or DVD release of Shrek, staring Mike Myers and Eddie Murphy. Why an X Box? Well, simple, Shrek the game will be a launch title (and the DVD even gives you some help in the game, kind of) with the X Box, and it doesn't take a rocket scientist to put two and two together.

To crowd these give-a-ways a little more let's introduce Burger King, who isn't giving an X Box away, but does hold the Shrek properties. That's right, Burger King is the fast food joint that gets the Shrek tie-ins. You'll notice that Shrek is NOT a game you can win over at Taco Bell.
And even though these companies are only connected by a simple Shrek DVD, you can't help but wonder a few things. Will the X Box give-a-away's help business? Does Microsoft look like they are selling out? Or maybe most importantly, can the X Box sell in the middle of a world wide recession?