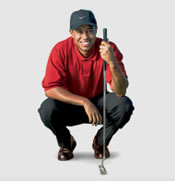 Is this real Tiger? or game Tiger?
Many gamers out there have grown to dislike Electronic Arts for their business practices of rehashing the same franchises year in and year out. We have written several articles on the subject that they used to be risk takers, and used to create unique and innovative content, you can read more on this subject matter here...
Life of an Adventurous EA
. What I am here to tell you is that Electronic Arts is at it again... no, not creating unique and original content, but pushing the envelope for what we can expect for realism in a game play mechanics.
On current generation systems, players can move around in 45 degree angles, making the player movement a little stop and go. EA has created a new technique of capturing motion, which allows 360 degree fluid movement. Most times when they bring up those annoying "demonstrations" at the press conferences, I tend to dose off a tad... This one had me glued and riveted. It reminded me of a favorite quote, "We'll sell you the whole seat, but you'll only need the EDGE!!"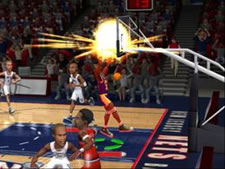 REAL IN-GAME GRAPHICS!!
What EA is doing for the sports genre on the next generation consoles; specifically PS3 is simply put as GOD DAMN spectacular. The animation of these characters allows them be a million times more responsive then in the past, and allows for individual tracking of the parts of the body. They did a side by side demonstration with the PS2 and PS3 to show how major of an improvement the reaction times were for these characters, it didn't even look like the PS2 was set to react!
I'm sure a lot of you have seen those "documentaries" where they hook up some famous athlete to a bunch of probes and then track their movement for a video game rendition of themselves. EA has also expanded on this technology to the point where if you were to look at the facial expressions, and graphical detail, you would swear there was no possibility that it was running in real time. I was baffled, to find that this detailed rendition was not a photocopy of Tiger Woods himself... Oh ya, forgot to mention, they used Tiger Woods for this demonstration!
While most will talk up this generation of gaming consoles as being for the innovative hardware aspects, such as motion detection and unique controllers, it seem that there is still a lot left to do when it comes to improving more then just graphics, but improving the game play engine as well. I can't wait to play these games from EA in the next few days, I will return with nail-biting commentaries on my personal thoughts about these games, and what they bring to the table.