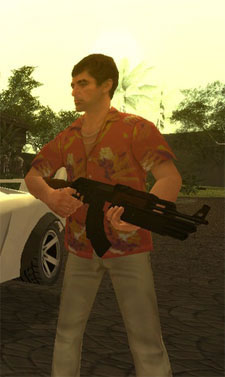 I promise you that this article will not have a single joke about his "little friend"!
I've got to be honest with you, I really haven't been that excited about a Scarface video game. It's not that I disliked the movie, but the idea of what amounts to Scarface 2 kind of rubs me the wrong one. The idea that Tony Montana survives the movie's finale is preposterous, it just seems like one of the worst ideas of all time make a sequel to that ending. Another problem I have is that this all feels like familiar territory, Grand Theft Auto: Vice City does an excellent job of taking many of the best parts (and locations) from the movie and making something even bigger and better. If you ask me Scarface seems unnecessary.
But who knows, maybe there's hope? EA's adaptation of
The Godfather
was pretty good and VU Entertainment has put out a few solid titles in the past. And then there's the pre-E3 announcement of the Scarface cast ... and let me put it this way, this game is going to feature every Hollywood actor and their agent!
Don't believe me, I've managed to sort the thirty plus actors into four different groups -- the good, he musicians, the crazy, and the rest. You may disagree with who I like, but I think you'll find at least a few people you're excited about. Check out the full list below ...
The Good:
Ricky Gervais
(The Office),
Oliver Platt
(Bulworth),
Elliott Gould
(M.A.S.H.),
Anthony Anderson
(The Shield),
Jason Mewes
(Clerks),
Cheech Marin
(Up In Smoke),
Tommy Chong
(Up In Smoke),
Richard Roundtree
(Shaft),
Daniel Dae Kim
(Lost),
Kevin Dillon
(Entourage),
Jerry Ferrara
(Entourage),
Robert Loggia
(Grand Theft Auto III),
James Woods
(Another Day In Paradise),
Jay Mohr
(from TV's Action),
Michael York
(Logan's Run), and
Michael Rappaport
(The War At Home).
The Musicians:
Ice T
,
N.O.R.E.
,
Tommy Lee
,
Cypress Hill's B. Real and Sen Dog
.
The Crazy:
Bai Ling
(Red Corner),
Bam Margera
(Viva La Bam),
Wilmer Valderrama
(That 70s Show), and
NASCAR racer Dale Earnhardt, Jr.
The Rest:
Michael Rooker
(Mallrats),
Tiny Lister
(former WWF wrestler Zeus),
Willa Holland
(The O.C.),
Roma Maffia
(Nip/Tuck),
Robert LaSardo
(Nip/Tuck),
Brenda Strong
(Desperate Housewives),
Rick Yune
(Die Another Day),
Cree Summer
(Drawn Together),
Miguel Sandoval
(Blow), and
Robert Davi
(Licence to Kill).
I have to admit the idea of having Ricky Gervais in a video game has piqued my interest. And how about the return of Cheech and Chong? Who knew such a diverse cast could come together for one project, it's downright shocking the number of talented people on the list. How do you go from Dale Earnhardt, Jr. to Daniel Dae Kim to Elliot Gould?? It just doesn't seem possible. Thankfully it doesn't have Michael Madsen in it ... yet.