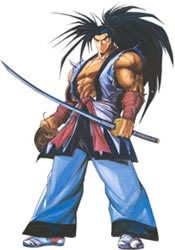 Haomaru wants a PSP Compilation, Or Else!
This year marks SNK Playmore's move from South Hall to the smaller, lesser known Concourse Suite #153A. Yes, that is right, #153A! Does this news mean that they won't have a stunning line up for this year?? Far from it; SNK Playmore just announced today its E3 2006 Lineup and it is packed with a bunch of anticipated games. SNK Playmore will premiere five new games for the Nintendo Wii, PlayStation 2, PlayStation Portable, Nintendo DS and Game Boy Advance at this year's Electronic Entertainment Expo.
You can expect to see such classic franchises as King of Fighters and Metal Slug make several appearances this year. SNK Playmore will introduce King of Fighters 2006 for the PlayStation 2, Metal Slug for the Game Boy Advance, SNK vs. Capcom Card Fighters DS for the Nintendo DS, and the most anticipated PSP game of them all, Metal Slug Anthology, which will also appear on the Nintendo Wii.
Fans of SNK Playmore will be thrilled with their line up, but still feels lacking without a compilation as mentioned in
Compilation Anxiety!! Why Your video Game Collection Sucks!
Lets hope for a last minute announcement for something like this, I miss Samurai Shodown!