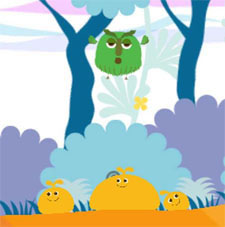 Hopefully Sony will continue to release obscure "art" games like LocoRoco on the PSP!
Before we jump into talking about LocoRoco I want to take a few seconds to point out that this is our first current generation preview. Defunct Games is not the type of website that generally does preview articles for PSP games, we're the type of website that usually makes fun of people who preview PSP games. But today is going to be that exception. Heck, the next seven days are all going to be exceptions. This is our E3 coverage and we're going to post all sorts of these little previews about the games we liked, hated, and everything in between. First up is a special Pre-E3 hands on write up about LocoRoco.
When LocoRoco was first introduced at the Tokyo Game Show last year it was an instant hit, it was a classic 2D platformer with a cool new control gimmick and a strange (and unique) look. It's exactly the type of product PSP owners had been waiting for. Thankfully I've had a chance to play around with the preview build of LocoRoco and I have to say that it rocks.
Controlling LocoRoco is extremely easy, you use the L and R shoulder buttons to tilt the screen and push them together to make your singing blob leap into the air. At first this sounds simple, but if you're going to find and collect everything then you're going to need to master the screen tilting and the jumping. You will also need to know when to split your blob up into smaller singing blobs (you do this by pushing the "O" button).
And did I mention that your character sings? Everything about the presentation is good, from the graphics to the sound. The songs may get annoying (if you stay in you a level too long), but it's still fun to watch your little guy mouth the words to the songs. It's just one of the endearing qualities of LocoRoco!
But How Good Is it?
Yes, LocoRoco is an incredible game that looks to have a lot of cool level designs and some breath taking graphics. I'm a tad worried that the game may be too simplistic; I would have to have to do the same thing in every level. But from what I've experienced so far I'm not concerned. I look forward to playing a more complete version of LocoRoco, either on the E3 show floor or this summer when it's released.