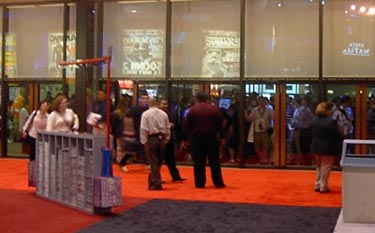 These are the angry retailers who want to hurt me!
These are the angry retailers who want to hurt me! E3 is upon us; we have made our lists of games to hunt and checked them twice. Defunct Games is going all out this year with expanded coverage, Interviews with companies like Hudson, Konami, Capcom, SNK and more. Ok, not all have confirmed yet, but we are going to get an interview.
Day one we will get into the convention center TWO hours earlier then anyone else!! A first in the eleven year history of the E3 Expo. This will provide us with ample time to grab all the free stuff, play all the games we want to play, and tease the retailers on the other side of the glass. Day one will be the least hectic day of them all.
Day two we will conduct our scheduled interviews, and snag some extras for good measure. The rest of the day will be spent visiting places like Kentia Hall, and playing some more games from our lists. Hey, we may even participate in a cake eating contest this year!
Day three marks the shortest day of them all, it is the last day of E3, and will be the second craziest day next to day two. We will have to overview our list of games that we still need to catch up on, grab any new swag, and make sure we have enough material for articles to come.
The great thing about this year is that we are so close to the convention center, that a $5 cab ride will get us to and from our hotel. We can take a quick break to unload get some food, and then jump back into the fray, all without batting an eye.
Here is to a great week at E3 2006, and here is to still getting paid from my day job while attending!! I love vacation.