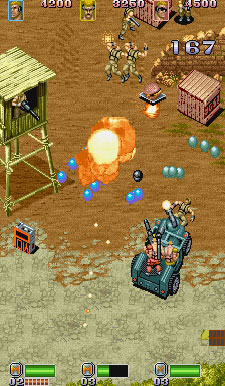 MERCS is one of the best arcade games ever made and it's finally coming to the PSP!
About a week before we left for E3 we decided to run an article addressing video game compilations. You've probably already read it, but in case you haven't I suggest you check out
Compilation Anxiety: Why Your Video Game Collection Sucks
. In the three page bitchfest I spend a great deal of time pointing out games I want to see, giving suggestions to the video game companies (not like they are listening).
I'm proud to say that out of the dozen portable compilations I suggested one of them was announced ... kind of. I introduce to you Capcom Classics Mini Mix, a Game Boy Adventure collection that features three different NES ports. You get the wonderful Bionic Commando, the dreadful 8-Bit Strider game (not the same as the arcade version), and the puzzling Mighty Final Fight. Mighty Final Fight?? Those aren't the NES games I was asking for (well, except for Bionic Commando). I want DuckTales, I want Willow! Nobody wants a port of the NES Strider, not now and not ever.
Thankfully Capcom isn't done making these collections, their Capcom Classics Collection Reloaded (the sequel to Remix which was released earlier this year) is set to include three different Street Fighter games, all of the Ghosts N Goblins sequels, a bunch of 194X games, and Eco Fighters. And don't forget King of the Dragon and Knights of the Round, those make their PSP debut as well. This collection is shaping up to be one of the best video game collections of all time!
And those aren't the only games, the version I played at E3 featured a faithful port of MERCS, a game I have been demanding for months. If you're a fan of classic Capcom arcade games then this is one collection you won't want to miss out on.
And if that's not enough, PlayStation 2 (and Xbox) owners will get a second helping of Capcom Classics. This new installment, simply titled Volume 2, will feature just about every game released on the recent PSP collection. That means there will finally be a console release of Street Fighter (outside of
Fighting Street
for the TurboGrafx-CD). Looks like Capcom is finally getting their act together and releasing their rare arcade games. Good job Capcom, good job!