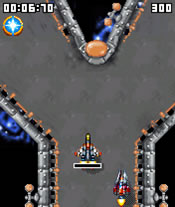 Making a turn like this can be near impossible on MY phone!
You know the name Commodore from the good ole days of the Commodore 64 (or Commodore 128), right? Good, that's just what I was hoping to hear, that is if you said yes. Well, they are back like a heart attack and ready to rock you cell phone! Yes, your cell phone! Such great games as California Driving, Impossible Mission and Space Racer are now available for your cell phone!
Commodore is actually building cell phone download kiosks that will go into use in Europe, currently 4 are available for use at this time in the Nederlands. The system is pretty simple, you go up, search the games that are available, and then select that you want to buy it, it then asks for your "Commodore Card" or some such like that, you then enable Bluetooth, insert your memory card, or hook up via USB to accept the incoming game. I chose to try out the better of the two available games for download, and ended up playing Space Racer. Download was easy, Install was painless, and registration was a snap; only after a little confusion!
The game its self is a little... non-responsive, such things as flying at an angle are something that is mastered with much anger, and patience. The first level is a breeze to play, you can either use the "joystick" found on most cell phones, or you can use the 2, 4, 5 and 6 keys to control the game. The 2 key makes you go forward, as the 4 and 6 keys make you go left and right respectively, the 5 key is used to fire your weapon pickup. To tell the truth, I would much have preferred if the 7 and 9 keys were used instead of the 4 and 6, as this setup would allow more movement with your fingers.
The graphics of the game are better then your traditional cellphone game.
After the first level has been completed with ease, the second level strips you of all your pride! You just cannot pass this level without losing some hair, and throwing a fit, if your mother heard the things you said she would just die. To be fair though, my phone model wasn't exactly "listed" in their kiosk, and my phone is a bit laggy just going through the menu system!! I guess if I had a faster phone I may not be having these issues, but nonetheless, they are still present on my phone.
I look forward to seeing the rollout of these kiosks full of great classic Commodore games in the near future, the Rep wasn't very sure on a US release quite yet, but I imagine, it isn't too far off with the advancement of cell phones in their current state. One problem with a US release is the world standard GSM network is not the main standard in the US, and they will have to perform some R&D to make things work out on our end.