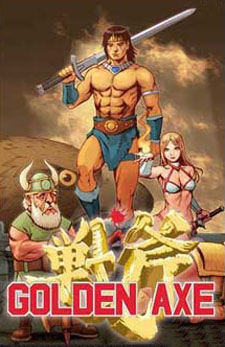 Please let this be better than most current generation brawlers!
So here you have it, one final shocker before E3. Fans of the site will remember that I've been anticipating a NiGHTS sequel ever since Famitsu hinted at it. Today Sega FINALLY dropped a shocking revelation, but sadly it has nothing to do with NiGHTS. Instead Sega dropped a bomb in the form of a next generation Golden Axe game!
I'm not sure how this game plays or even what it looks like, but this is a big shock. The original games were a lot of fun, but could easily fit in that brawler category that has been so hard to update. Think about the recent incarnations of Final Fight? Okay, it's probably better you don't think about that tragedy. But the truth is that only one brawler has managed to be worthwhile, and that game is Rockstar's The Warriors. Let's face facts; this genre isn't the easiest to translate to a world that is demanding deep game play and brand new innovations.
But let's not get ahead of ourselves; perhaps Sega has something brilliant up their sleeves. But I hate to say it, Golden Axe is no NiGHTS! When I think about the things Sega can do with a new NiGHTS it gets me excited, I'm all tingly inside. But that's not the feeling I get from Golden Axe, a game that couldn't even muster up a successful sequel back in the day. Hopefully I'm wrong, but if it's nothing more than a beat-em-up with simple controls I will be the first to condemn this sequel. If the game is on the show floor then I'll return with my full thoughts.
(Editor's Note: If you're wondering why we haven't posted articles about Nintendo and Microsoft's press conferences it's because we've been so busy with other things today. After the conferences we ended up heading to the Hollywood area and getting caught up with TV tapings, movies, shopping, and running into a friend. At some point this week expect us to double back and talk about what we missed.)