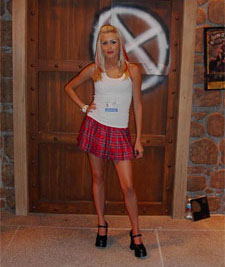 Will this year's E3 bring an end to the objectifying of skinny women?
Can you believe that it's that time of year again? It's nearly time for the entire Defunct Games crew to pack their suitcases and jet off to sunny Southern California. Ladies and gentlemen, E3 is upon us and like it or not you're coming along for the ride! This page you're looking at is the beginning of our 2006 E3 coverage, so buckle up and prepare yourself for the expo you won't see elsewhere. That's right kids, Everything You Know About E3 Is WRONG!!
But before we jump in the car and take our laptops to Los Angeles perhaps we should talk about what's going to happen during the week of E3. In exactly one week tens of thousands of gamers (and industry types) will be shoving their way into the Los Angeles Convention Center for the biggest video game event of the year. And wouldn't you know it; Defunct Games will be there to bring it all to you. But this year is going to be different, this year you're going to have a chance to talk back to us and ask us questions!
Starting now you will be able to see our thoughts about the new systems, opinions of games, and other various musings about the event at large. That means you should expect more than just updates on Mondays, Wednesdays, and Fridays ... we're actually planning on giving you several updates every day all through the end of E3. Starting today look for multiple E3 updates, we'll be talking about news, predictions, and reviews of products. And you don't just have to read it, you can ask us questions about what we saw and interact with us. This is going to be the best E3 ever ... for us AND you!
But just because we're going to be at E3 doesn't mean you should stop paying attention to our regular features. The week of E3 will be our sweeps period; we have some of our absolute best articles ready to go up between May 8 and May 12. You should also expect the regular dose of reviews and editorial content. If you're a fan of Defunct Games then you're about to die and go to heaven, you're looking at all of the usual updates plus dozens of E3-related discussions. I'm going to tell you now; it's not going to get much better than this. The rest of the year is going to be a downhill race as we disappoint you time and time again. But not in May, because this is our time to shine!