A lot has changed since the last time we featured an episode of the Cover Critic. Both Sony and Nintendo have released new portable game systems, long time companies have shut their doors forever, and the world has been reintroduced to a certain lawyer named Jack Thompson. Heck, even this site you're looking at has changed in many ways. So maybe it's time we take another serious look at video game covers, letting you know which ones we like and which we hate. After two years I invite you to embrace a brand new Cover Critic, one that isn't afraidto tell you what we really think. So enjoy five new covers and one new look!
Vol. 1: Phantasy Star - Generation 1 (PS2)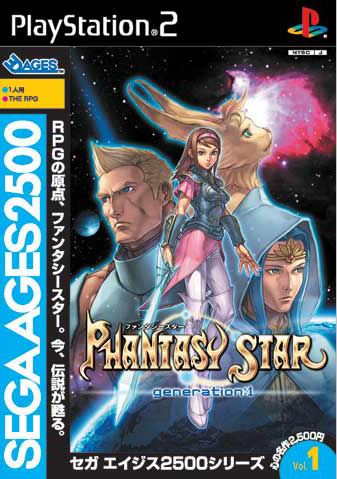 First and foremost, this collection of reviews are of the upcoming Sega collection called Sega AGES. Each volume feature a classic Sega game and adds 3D graphics, better game play, and much more. The first edition is of a long forgotten classic, Phantasy Star. While a lot of Genesis owners fell in love with Phantasy Star II, III, and IV, it was this Sega Master System RPG that started it all. Yet almost nobody has played it. Well, the good news is the game is back with a vengeance, and the cover is pretty darn good, too. Outside of the stupid looking cat-person, every character in this piece is well drawn and encourages you to proceed further. Add a good looking girl with a glowing sword and you have a winning combination. If you study the picture carefully the lack of detail shows through, but ultimately it is one of the best looking covers of the bunch.
Vol. 2: Monaco GP (PS2)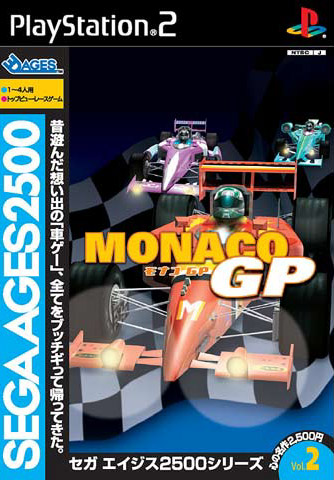 If Phantasy Star Generation 1 is the best looking cover of the five Sega AGES titles, then Monaco GP is the worst. It's the sort of cover you come up with when trying to make an F1 fan site using Photoshop for the first time. It doesn't even try to impress us, it just assumes we'll be happy to see a few cars and a checkered flag. Not only is this the worst Sega AGES cover, it is possibly the worst cover for a racer of all time! If the name had been removed I would have assumed this was the cover to Virtua Racer, which is also coming out (but not reviewed in this Cover Critic). As it is Monaco GP has absolutely nothing to offer a market of already clich? covers. Let's hope they do something about this when it's released over here.
Vol. 3: Fantasy Zone (GCN)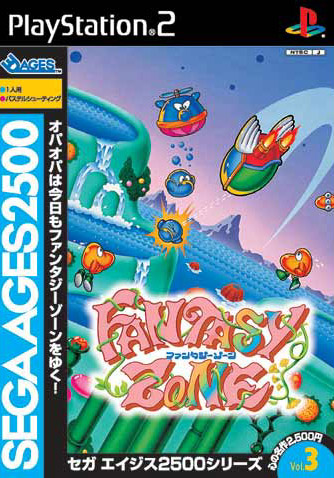 The Fantasy Zone cover isn't perfect, but we're back on track from that tragic Monaco GP cover! Like Phantasy Star, this is one of those long forgotten Sega Master System games that would have been more popular had the system taken off. The cover does a good job of conveying how acid-influenced the game really is, and even makes you look closely to see if it's giving a cameo to Q*Bert. Of all the games in the Sega AGES collection, this one has the best-drawn title, bordering on resembling a cheesy 1970s Sid and Marty Croft TV show. While the cover is extremely colorful, it is actually more subdued than the actual game. I would have liked to have seen a little more color, and perhaps even more happening in the picture. It's not bad, but it's far from perfect. Let's hope this time people pay attention to this long ignored shooter.
Vol. 4: Space Harrier (PS2)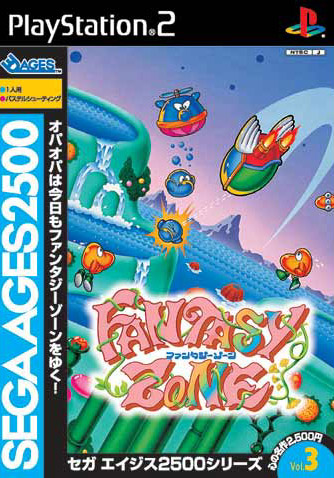 I just got done complaining that the cover to Fantasy Zone was not busy enough. I argued that it could have been more colorful with more creatures and weird objects. So what I'm about to say about this fourth cover, the cover to Space Harrier, is going to fly in the face of everything you have read up to now. You see, Space Harrier is WAY too busy, but not enough to make me stop looking at the picture. Split into two parts, this Space Harrier cover seems to have a busy side, and a fairly mellow side. Neither is particularly spectacular, neither is the rider, who actually lacks a lot of detail. It would have been nice for Sega to have included a more attractive villain for the cover, but then, I suppose that's a minor gripe in the long run. It's not a bad cover, but it's not a great one, either. Very average, really.
Vol. 5: Golden Axe (PS2)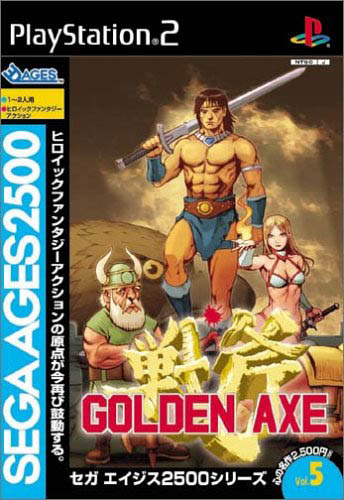 The most popular game in this Sega AGES collection has to be Golden Axe. This classic arcade brawler paved the way for many a Capcom game, including Final Fight, Captain Commando, Advance Dungeons & Dragons, and many, many more. I'll tell you what, no matter how good (or bad) these covers are, the fact that Sega is going back through their catalog and updating games that NEEDED to be updated is enough to make me dance around the room. And best of all, these games are all budget titles, which could have something to do with that ugly blue strip along the left side of the box. Oh, you see it there, it's the strip I didn't mention this whole time, yet is hard to miss. Oh I hope they change that.