With a name like Jet Car Stunts, you know this isn't going to be a game about fantasy role-playing or complex city building. No, this isn't the next big competitive first-person shooter, but rather a driving game featuring a jet-powered car doing stunts. But really, did you expect anything more than that?
Originally a download for mobile phones, Jet Car Stunt is bringing its unique blend of platforming puzzles to both PS Vita and PlayStation 3 (with the PS4 to follow). For the low asking price of $7.99, players can race through a series of increasingly difficult stages in hopes of beating their friend's best times. It's not the year's deepest experience, but it's moderately fun for a short amount of time.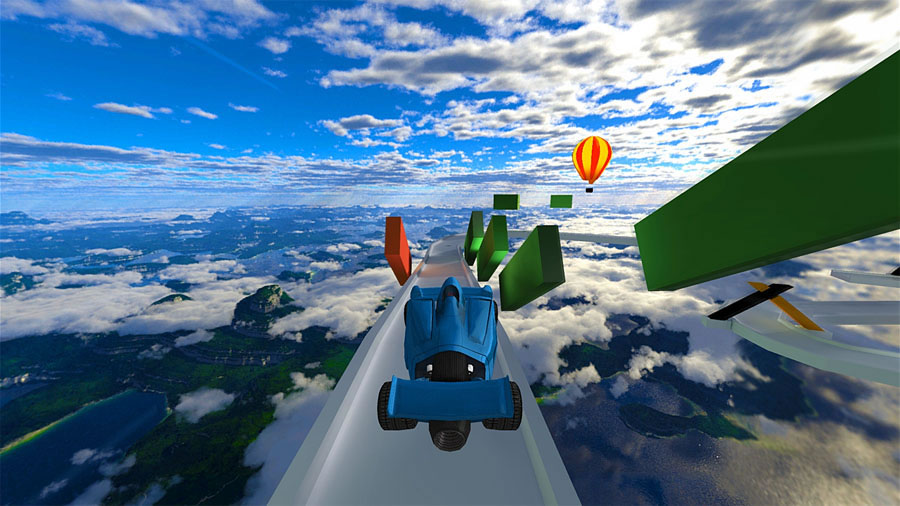 Click For the Full Picture Archive
Like the title suggests, players take control of an experimental car powered by a large jet engine. The goal is to navigate the purposely tricky courses without falling off the side and plummeting into the ocean below. The good news is that there are checkpoints along the way, so players will only need to focus on conquering one section at a time.
By now it's pretty obvious that this is not your typical racing game. Instead of driving around in a big circle, players are being asked to jump onto floating platforms and drive up walls. Jet Car Stunt has more in common with Ninja Warrior than Need for Speed. And just like the television competition, many of the obstacles look impossible at first and end in heartbreak.
Many of the more challenging moments involve leaping large distances, which is where the powerful boost comes in. At the push of a button, players can unleash the jets and send the car flying. This is not hyperbole; the car will literally take flight to reach the next floating platform. But temper your excitement, because the boost is limited and not always as powerful as it should be.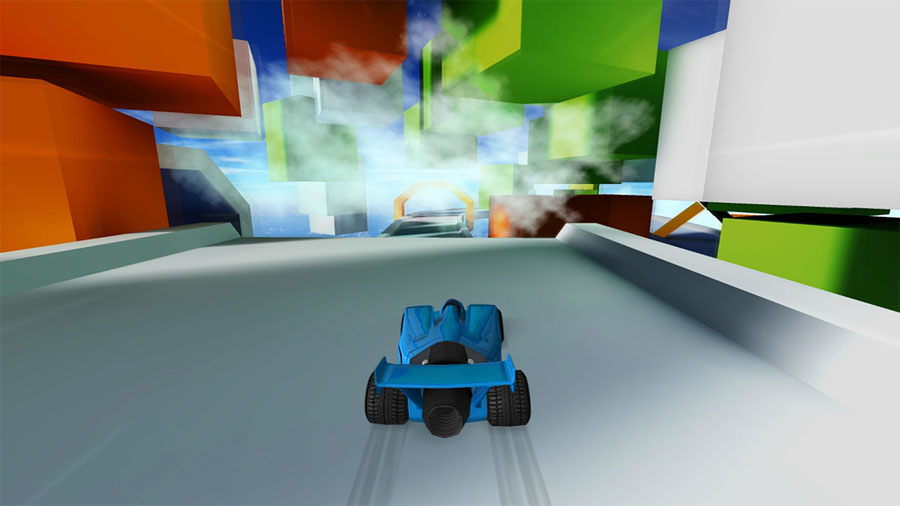 Click For the Full Picture Archive
It's disappointing that flying seems to be the only stunt in this game's bag. Don't get me wrong, turning your vehicle into a flying rocket is cool, but that's only one stunt. The title promises stunts, plural, and yet the game never opens up to allow the usual loops and spins. In fact, attempting these types of stunts will result in certain death.
It's a shame the jet car isn't easier to handle, as I can definitely see the potential for a craft that effortlessly switches from a car to a jet airplane. Unfortunately, the vehicles never have much weight to them and are often difficult to control. The steering is a bit too loose on the ground, and even the slightest movement can send the flying car into a spiral. This is especially frustrating in the later stages, when the game demands pinpoint accuracy.
Apart from the typical platforming puzzles, Jet Car Stunts also features a handful of other modes. Time Trial is the closest the game gets to a traditional race. Here you'll speed through the course trying to beat a ghost player. Collector is a bit more challenging, having players use the vehicle's jet engine to snag out of the way stars. Sadly, these modes are only given a few levels to play through.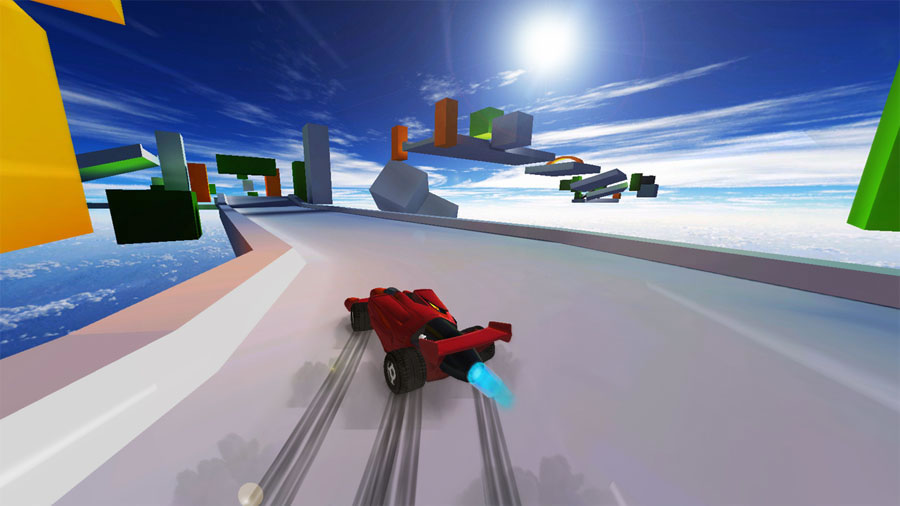 Click For the Full Picture Archive
The look is decidedly simple, with basic colors and textures. The aesthetic doesn't change much between levels and modes, which is a bit disappointing. You'll see a lot of the same obstacles and structures repeated from one level to the next. The levels certainly become more challenging from one stage to the next, but it's rarely because of a clever new hurdle to overcome. It often feels like Jet Car Stunts is holding back, which keeps it from meeting its full potential.
Then again, this is an inexpensive game with a singular focus. Although frustrating at times, the platforming puzzles are fun and I enjoyed the diverse modes. Sadly, the gameplay is a little too loose and there aren't many stunts to perform. There's a lot of untapped potential in Jet Car Stunts.