The Wolf Among Us - Ep. 1: Faith
It's the 1980s and times are tough in Fabletown. Although the residents come from classic fairy tales and legends passed down from one generation to the next, there is a real sense of unease and despair running through every inch of their 20th century Manhattan dwelling. Crime, politics, the economy and the redundancy of everyday life has taken its toll. If the first episode of The Wolf Among Us tells us anything, it's that there's no such thing as happily ever after.
Based on Bill Willingham's Fables comic book series, The Wolf Among Us is Telltale Games' first major adventure game since The Walking Dead. Given the amount of praise heaped on the zombie-infested adventure series, all eyes are on the San Rafael-based developer to come up with something even better. The jury may be out on whether it's better than The Walking Dead, but The Wolf Among Us is an incredible start to what promises to be another great adventure series.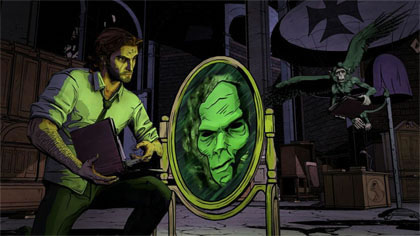 This time around we take control of Bigby Wolf, who was the infamous Big Bad Wolf in another life. These days Bigby is the sheriff of Fabletown, doing his best to keep the peace through troubled times. His job becomes even more difficult when a young prostitute is found decapitated. This leads Bigby and his partner, Snow White, to hunt down the killer ... before he or she strikes again.
As it turns out, this is anything but an open-and-shut case. There are a number of viable suspects right off the bat, including a Woodsman who was seen beating up the young girl as recently as that morning. If it's not him, it could always be her pimp or one (or both) of the Tweedle Dee/ Tweedle Dum twins. With so many possible suspects, Bigby will have his hands full tracking down clues, interviewing witnesses and digging through old library books.
Although the gameplay and basic structure is similar to that found in The Walking Dead, there is a noticeable change in focus in The Wolf Among Us. For starters, this is not a horror game, and thus I never feared for my life. Instead the action plays out more like a police procedural. Much of this first episode is spent doing basic police work, including researching ancient symbols and interviewing suspects.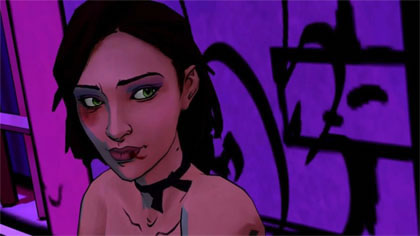 Bigby is a conflicted character, but he's likeable and easy to identify with. Even though he puts his life on the line every day to protect Fabletown, you can see a dark intensity lurking just under the surface. He may come across as silent and brooding, but he delivers a number of genuine laugh-out-loud moments. Bigby Wolf's sarcastic quips and quick wits make him one of the best new video game characters of 2013.
Bigby isn't the only likeable character found in Telltale's newest series. I really enjoyed the awkward moments he shares with Snow White, the aggressive conversation with Mr. Toad and the mirror that requires rhyming commands. I look forward to learning more about Ichabod Crane (The Legend of Sleepy Hollow), Grendel (Beowulf), Bufkin (The Wizard of Oz) and Beauty and the Beast. Perhaps one of them is the real killer.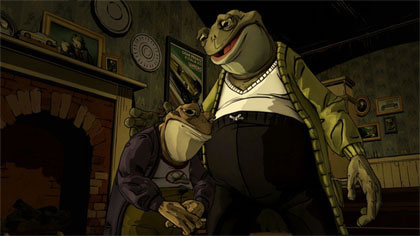 Much like The Walking Dead, The Wolf Among Us has players making choices that will later impact the overall narrative. Some choices seem insignificant at the time, but can turn into something much bigger later in the episode (and presumably throughout the full season). And when the episode is over and done, you can compare the choices you made to everybody else.
The gameplay is near identical to The Walking Dead. There are moments when you have direct control over Bigby, while other times it's nothing more than a series of quick time events. Sometimes the gameplay is all about the dialog choices you make, such as when the sheriff interviews a suspect. If you weren't on board with Telltale's interactive comic approach with The Walking Dead, there's nothing about this new series that will win you over.
The game's presentation is outstanding, easily besting Telltale's previous work. It looks like a living cartoon, complete with characters with noticeable emotion. It doesn't hurt that the voice actors have good chemistry together and the writing is quick and often witty. Even the incidental music is a perfect fit. The Wolf Among Us is Telltale Games at the top of their game.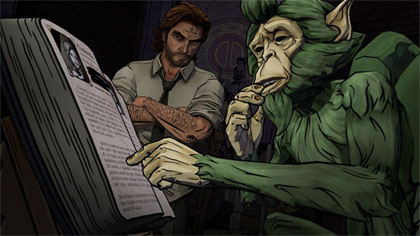 But as great as this episode is, we need to keep in mind that this is only the first of five parts. This review (and its score) makes no prediction about future episodes, I'll tackle those one at a time. There's a chance that Telltale bungles the next few episodes and the whole season turns out to be a complete waste of time. This seems slim given the company's track record, but it could happen.
As far as pilot episodes are concerned, Faith is great starting point. It introduces us to a cast of likeable characters and an intriguing murder mystery I can't wait to solve. If the next four episodes of The Wolf Among Us are as good as this premiere, then we're in for real treat.