Many years ago, EA decided to complete with the "arcade" football games like Blitz with their EA Sports Big line of games and their "Street" series. These games were not to be confused with the Commodore 64 Street games by Epyx from the 80s - as instead they were meant to be even more gritty with less rules and more action.
The original NFL Street had moments of fun. The venues were interesting and the gameplay was addictive. The sequel added "wall walking" to the game and was not nearly as enjoyable as the first. The third time is definitely not the charm as NFL Street Vol 3 makes the game pretty boring. It is not fun, it is ugly, it sounds horrible and it is to be avoided. It is by far the least enjoyable football experience I've had in some time, and I played Madden for the Tapwave PDA and that was pretty bad. But other than that, enjoy!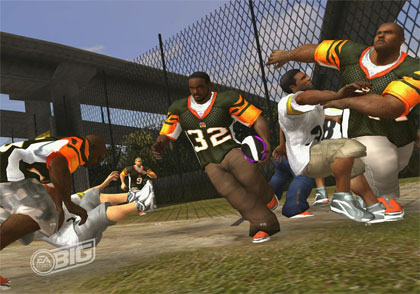 Starting up the game you'll probably think there's a lot of depth: you can get right into a quick game, choose a single game, street event (mini-games), or a pick-up game (where you pick your roster) in exhibition mode. There is a tutorial mode, which is strongly recommended if you have never played the series before and probably worth it for people who need to learn the new moves.
The tutorial covers most of the bases, but one thing it does not cover are the on field powerups. You have to learn by doing that you need to jump up on the field of play to pick up these bonuses. They do add some spice to the game (ie score on this possession and get bonus points, etc), but again, it would have been nice if it were explained. Once you get the hang of it, there's no problem in picking them up.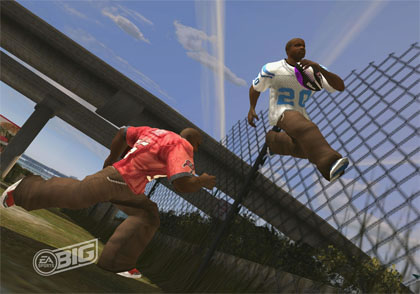 The load times are still crazy for what you would think is a simple game. It feels like every environment needs to be pre-loaded. It should not take this amount of time to get right into a game. The graphics remind me of a PSOne game. I realize that doing most reviews on the Xbox 360 has spoiled me but I think that even by PlayStation 2 standards, the graphics are lacking. There are jaggies everywhere on the playing field and it just feels like the graphics could have been cleaned up.
I will concede that the gameplay itself does have moments of fun - however there are so many button combinations you need to remember to enjoy the game, it can get frustrating. On defense you can audible, and from the audible screen you can guess your opponents play type. If you guess pass and they pass you are given a defensive bonus. Why do you have to guess a play from the audible screen? No idea. Every other "guess play/pitch" control was an easy one button selection. The idea of guess play is great, the way it was implemented was not.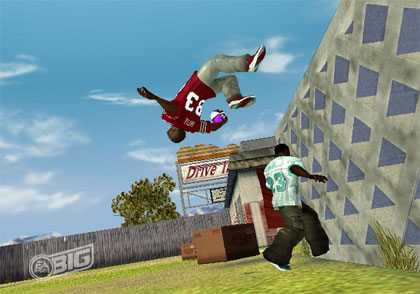 This is a football game and some of the rules are still there - you get four downs to make a first down, but the down marker is at an arbitrary spot on the field. It's not 10 yards. There are no penalties in the game so hit those WRs all you want. There are no punts or field goals allowed in the game; touchdowns are worth 6 and you can do either a 1 point or 2 point conversion - (2 pt conversions are from a longer distance). There are safeties (2 points) in the game.
One significant change over the previous games is how the Gamebreakers are implemented. Previously you had to fill up a meter and then once it was filled you were either able to make a turnover very easily if you were on defense or were able to get the score for the touchdown. If you had a 'double' gamebreaker it was pretty much a sure thing that you would get the ball back or score. If you had a 'single' it wasn't as definite but still fun to watch. This year, you can accumulate up to three gamebreakers which allow you to make one power move at a time (no saving up for super gamebreakers).