If you have children and cable, there's no doubt that Disney Channel is a favorite on your cable box. As kids watch so do parents, which explains why Hannah Montana is sold out everywhere. Personally, I know more Hannah Montana, Cheetah Girls and High School Musical songs than I care to publicly admit.
Needless to say when Konami announced a DDR Disney Channel game, I was somewhat intrigued - while my kids play DDR, they don't know a whole lot of the songs. With DDR Disney Channel, I had visions of them rocking out to Hannah Montana and singing along as they got a workout. Unfortunately the reality wasn't as good as my fantasy.
When setting up the game, all of the usual DDR features are there - with the exception of PS Eye and online support. Not a big deal in this genre because it's more of a local family game, but it's odd that the franchise took it out of one game as you would think the DDR games all use the same basic template. DDR Disney does let you play as a bunch of Disney characters -you can be Zack or Cody (from the Suite Life), Hannah Montana (but unfortunately not Hannah's dad), Troy or Gabriella from High School Musical but interestingly you can't be Sharpay - but you can be the cashier from the Suite Life which is also played by Ashley Tisdale. Go figure.
The song list isn't nearly as robust as other DDR titles. There are plenty of Disney Channel songs but they are a little suspect - for example one might have expected more Hannah Montana songs, Cheetah Girl songs or anything from High School Musical 2 - only the first movie is represented here. The songs only come from Disney Channel shows - if you're looking for anything solo from Ashley Tisdale or Vanessa Hudgens it's not here either.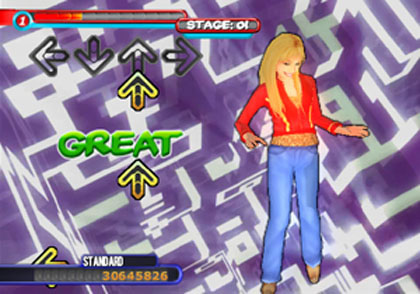 What's even worse about the songs themselves is that they are all covers. None of the Disney channel songs are the originals. As someone who has played through plenty of covers in Guitar Hero and Rock Band, this wasn't a big deal, but it was a huge deal for my kids and they noticed it immediately. Some of the covers are just atrociously bad.
As if the game's quality isn't poor enough with the covers, the graphics are even worse. In previous DDR games from time to time you'd see the original video of the song in the background, but in DDR Disney you won't see any videos whatsoever. Instead, you see moving backgrounds that take photos of the cast of shows or basic album covers and move them up and down the screen like some weird 70s TV infomercial. Anyone that has played DDR knows that the arrows which you have to hit on the dance pad scroll from the bottom of the screen to the top. When the EHS (the logo for East High School) also scrolls from bottom to top with the arrows, it's a visual overload resulting in missed notes.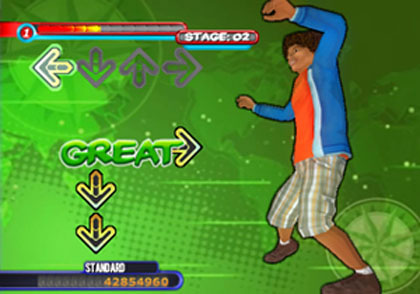 The dance part of DDR is good - the tempo is pretty close to the original songs and there are plenty of modes to choose from including my personal favorite - the workout mode where you can set a time or calorie goal and after every song you see how close you are to accomplishing your goal.
The game modes are run of the mill - there is a training mode (great to get started), a workout mode, and an advance mode which is a challenge mode (play songs nonstop until you make four mistakes) Magic mode is a single player mode which you play against a nonhuman competitor one on one for the prize of ... character outfits! Although the game is geared to kids by the Disney name, all the DDR rules still apply. There is a 'beginner' mode which is extremely easy to play and a difficult mode which is very insane. It's nice that each player can select their own mode so that you can handicap yourself when playing with a child.