Every so often, a puzzle game comes along that helps define the genre and reminds people why sometimes, a simple game of matching colors can be infinitely more entertaining than clubbing a zombie with a 2x4 over the head. And while Break Blocks does manage to entertain, it never manages to inspire. What you are left with, though, is a solid puzzle game that sometimes tries to do too much with the genre.
The premise to Break Blocks is similar to other "match the colored blocks" games, with the added twist that each time you clear a set of blocks, your character busts out in some fancy breakdancing moves, causing the invisible crowd to go wild. When both applause meters reach your character, the game ends and you win the level. Sounds easy, but it's anything but that. And this is where the game's shortcomings begin to show.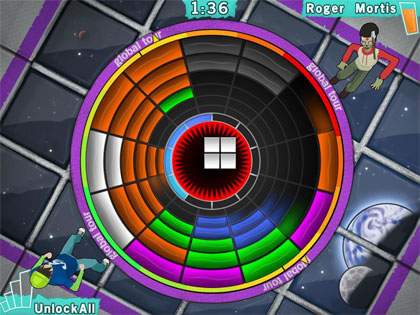 Continuing with the breakdancing theme, you first have to reveal the colored blocks by hitting the arrow keys (left, up, and right) in time with music. Anyone who has had experience playing Elite Beat Agents for the DS will quickly get the hang of it, but for the other 99% of the world, I'll explain how it works. As the music plays, a large red ring forms in the play zone, getting smaller depending on the speed of the music. As it shrinks to the center, it changes color to green, and then white. At the moment it gets green/white, you have to press the corresponding arrow key. Do it right, and the block will reveal itself as one continuous color. Fail any of the keys or the timing, and the block become a mix of colors, making it more difficult to clear or create combos.
The game then switches from its music element to its puzzle element. Your newly created color block must now be placed somewhere in the circular board (which is 12 blocks around and 6 tall). In the first levels, your color block will be made up of only 2 or 3 smaller blocks, but as you advance the blocks not only increase in number, but also change in shape. The point is to get them into groups of ten or more blocks, and then hit the spacebar to make them disappear. At this point you will have pleased your crowd, moving you one step closer to victory.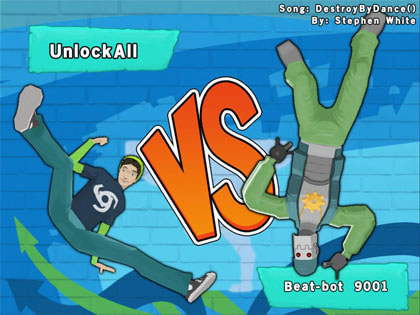 If it sounds a little confusing, that's because it can be. Thankfully, the developers were wise in easing you into the gameplay. You start with mid tempo music and just three colored blocks. After the first level, I was busting out moves pretty decently, with my avatar winning the crowd in a matter of minutes. As you progress though, the music becomes faster, multiple shrinking rings will appear at once, and new colored blocks are added that can only be destroyed if they are adjacent to the primary colors that make them up (red and blue to destroy purple, for example). All of this combines to make the game fast paced and fun, if not a little confusing at times.
The presentation is top notch. The characters are all cel-shaded, and the voice acting will cause a laugh or two. Your Jamaican tutor is particularly entertaining, with a heavy accent and joyful demeanor. Other characters include your rivals, including a fat Napoleon, a robot, and even a zombie. Not that they ever do much, occasionally showing off their moves in order to reduce your crowd meter. Round the package out with a multiplayer mode, achievements, and generally pleasing, if not a little repetitive, music, and you have a solid package that will entertain for at least 5 or 6 hours. Try to gain all the achievements and you're looking at a much longer experience.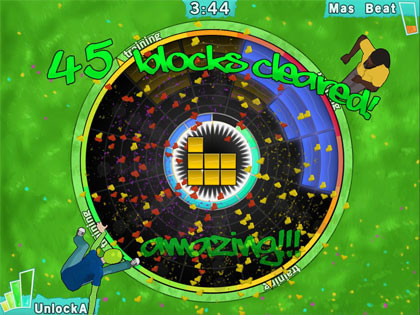 Break Blocks might not be for everyone, but if you're a puzzle fan, or even just looking to kill some time, you can't go wrong with this $5 dollar download. Not only is it entertaining in its own right, but you're also helping the organization Doctors Without Borders, as the developers donate 20% of the sales. Currently, they are even letting you name your own price, letting you buy the game for as little as $1. There are a bevy of iOS games with only half the content that cost more. So instead of eating that king sized Snicker bar, take a chance on a little known game and help an organization while you're at it.