2011 has been the comeback year for the once-mighty Mortal Kombat franchise. After falling on hard times in the early part of this century, Ed Boon's long-running series has been brought back from the brink of death thanks to the stellar PlayStation 3/Xbox 360 reboot. Now that a few months have passed, NetherRealm Studios is back with a fun, albeit it barebones, Mortal Kombat compilation for the Xbox Live Arcade and PSN.
This is the Mortal Kombat: Arcade Kollection, a pack of the first three arcade releases. You get Mortal Kombat 1, 2 and Ultimate Mortal Kombat 3. Unfortunately we don't get the original, penultimate version of Mortal Kombat 3, just the expanded edition. Still, you get a lot of great arcade games for the low, low price of $10. Not a bad value, even if some games don't hold up as well as others.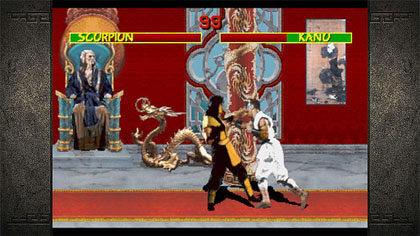 Our journey begins with the 1992 original, the arcade smash hit that put the series on the map. The first Mortal Kombat is understandably archaic, what with its stiff gameplay, limited special moves and brutally difficulty. This is the game that introduced the world to gory special moves and gruesome fatalities, something that would later spawn government hearings over video game violence.
Beyond the non-responsive gameplay and the controversy, it's easy to see why people were so excited about the original Mortal Kombat. This is a game with a dark story and compelling fighters. This was more than a Street Fighter rip-off, it felt like a whole new way to make a fighting game. A lot of the charm has worn off in the subsequent two decades, but it's fun to go back and revisit this 1992 hit. Just don't expect to beat the game on your first try, because Shang Tsung (and the frustrating arcade difficulty) will stop you dead in your tracks ... literally.
The next game in the compilation is easily my favorite. Mortal Kombat II took every good idea from the 1992 original and polished up the presentation and gameplay. The result was an incredible arcade experience full of memorable characters, gory finishing moves and enough secrets to keep you busy for weeks. Plus, it had a dark supernatural story that was unlike any other fighting game of the time.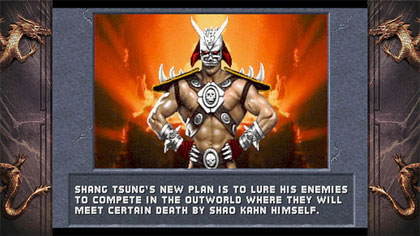 These days Mortal Kombat II doesn't hold up as much as I would like, but it remains an insanely playable fighting game with a bunch of crazy ideas. Much like the first game, the actual fighting mechanics feel stiff and the animation can feel jerky at times. Of course, we've had 18 years of fighting game improvements since Mortal Kombat II's release. Either way, the charm of the original is still front and center in this arcade port. Of the three games, this will be the one I ultimately spend most of my time playing.
After seeing the success of Mortal Kombat II, Midway set-out to change the way players thought of Mortal Kombat. In one sense they succeeded. Unfortunately, they did this by crafting a disappointing sequel that opted for a simplistic combo system and upped the amount of downright goofy content. The result was a mess of a game that I was never able to warm up to. Even after playing through it again on the Xbox Live Arcade and in this Arcade Kollection, there's something about Mortal Kombat 3 (and this Ultimate expansion pack) that rubs me the wrong way.