It wasn't that long ago that Capcom was the company that couldn't count to three. It took the king of fighters a staggering six years to go from Street Fighter II: The World Warriors to Street Fighter 3: New Generation. Instead of giving players what they demanded, Capcom opted to release incremental updates to their 1991 hit. We got Street Fighter II: Champion Edition, Turbo, Super and even Super Turbo. It turned the company into punchline and sucked a lot of the excitement out of the franchise.
Here we are twenty years later and some might argue that Capcom hasn't learned their lesson. It's been two years since the company reenergized the fighting game market with the phenomenal Street Fighter IV. In that time we've seen the release of Super Street Fighter IV and now the Arcade Edition. But before you sharpen your daggers, keep in mind that the newest update is nothing more than a $15 add-on (which is also available in stores for gamers who missed out on last year's model). You can complain all you want about yearly iterations on sequels, but clearly Capcom has learned at least one less in the last two decades.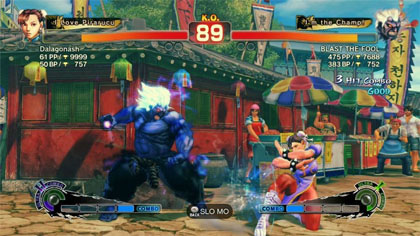 Super Street Fighter IV: Arcade Edition is a modest update, one that adds some balancing tweaks, a few new modes for online multiplayer and four classic characters. As an expansion pack, Arcade Edition has a nice amount of content for the right price. However, part of me wishes Capcom would have gone a little further with this third (and final?) release.
The new characters include Yun and Yang, two spry fighters who were originally cast in Street Fighter III. Although these two have similar looks and style, they're different enough to be considered two unique characters. Yun (the one with the hat) can leap around the stage linking powerful combinations together with his special moves. Yang (the one with the spiked hair) races in on rollerblades and uses a punch so powerful that it literally paints a blue line on the screen (similar to Strider Hiryu's attacks in Marvel vs. Capcom 2). Although these two fighters do not have much in the way of projectiles to throw, they have little problem racing from each side of the stage.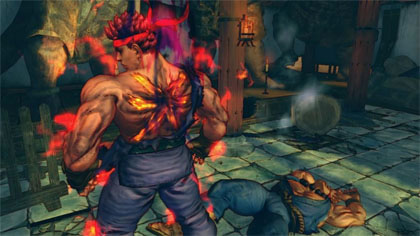 Arcade Edition also includes a new variation on Street Fighter's most popular character. His name is Evil Ryu and he seemingly mixes the character we all know and love with Akuma. Evil Ryu is one of the most visually pleasing fighters in the game. He's fully engulfed in flames and looks like he just came off the set of the most recent Mortal Kombat game. His moves largely mimic those of friendly Ryu, though there are a couple new moves that make this evil variant even more exciting to play.