Marvel's superheroes are larger than life characters with explosive personalities. Their antics usually result in high-flying acrobats and at least one building blowing up in the process. When their exploits are brought to the big screen, Hollywood filmmakers spend hundreds of millions of dollars faithfully adapting these comic book champions. They may have tackled every other entertainment medium, but does Spider-Man have what it takes to be shrunk down to the size of a pinball table?
Marvel Pack 1 delivers exactly what it promises, brand new Pinball FX 2 tables inspired by four of Marvel's best-known characters. You get the usual suspects with big budget movies circling theaters, including Spider-Man, Iron Man and Wolverine. Oh, and did I mention that Blade shows up? Together these four disparate superheroes team up to create a pack of incredible pinball tables.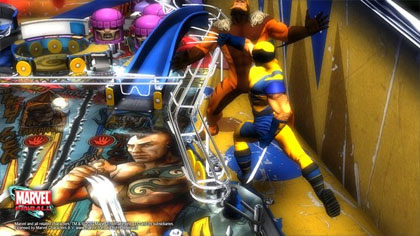 With masked crime fighters involved, I wasn't sure what to expect. It would have been easy to turn this video pinball game into a fantastical experience, full of boss battles and other things you couldn't do in a real life table. Games like Devil's Crush and Sonic Spinball have drawn a line in the sand, clearly demonstrating how far you can go when you throw out those pesky rules of real world pinball tables. But this Marvel pack doesn't do any of that. Oh, you still battle bosses, there's no doubt about that. The game is full of intense moments and familiar faces. But all of this excitement is crammed into a fairly realistic recreation of a pinball table.
But enough pontificating about what these games aren't, let's dig a little deeper and see what we can learn from all four Marvel tables. Let's start with the web-slinger himself, Mr. Peter Parker (aka Spider-Man).
Spider-Man:
Peter Parker may not get the respect he deserves on Broadway, but he's no slouch when it comes to virtual pinball. Spider-Man delivers the goods with a whole host of recognizable bad guys just waiting for him to screw up. As the battle heats up, Doc Ock will take to the board, using his long arms to cause havoc all over the center of the table. The Green Goblin and Mysterio show up when you least expect them to join in on the fun, which can sometimes mean completely reversing the flipper controls. This Spider-Man table is more than just a few villains to contend with, Peter Parker will also need to take pictures to satisfy his cranky boss. Successfully juggling all of these responsibilities is the key to earning a high score and getting your name on the leaderboard.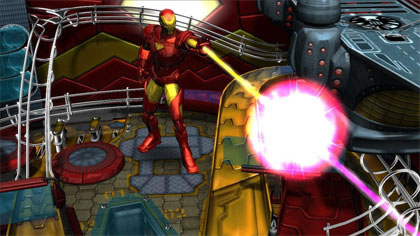 Iron Man:
This Iron Man table is an obnoxiously flashy mess of a pinball machine. This board does a few things right, including making Tony Stark front and center from the very get-go. Throughout the course of the game the player will assemble the Iron Man suit and eventually dress this cocky alter ego. On each side of him stands a villain, just waiting to screw up your game. I like the strong emphasis on character, but the table feels a little too crowded for my tastes. There are two ramps to the upper level that, more times than not, send my poor ball into a bottomless pit. I've suffered more cheap deaths on this level than the other three combined, which is probably why I would rather not spend my time with an arrogant playboy.