When it comes to reviewing games, not every critic agrees. Some decide that it's their job to score games based on what their readers would want, while others choose to center their final decision on their own personal opinions. In the case of Def Jam Rapstar I feel that I have no other choice but to come clean with all of my preconceived notions and biases. This is not going to be one of those reviews where the reader can simply look at the score and be done with it, because my 50% score comes with a surprising amount of caveats.
Let's start with the most important piece of information -- I am not a fan of rap music. I have nothing against the decades of hip hop, but I've always sided with alternative rock and the so-called college radio scene. Along the way I have managed to pick up a number of hip hop records, though it was rarely from me spending personal money. So going into Konami's newest music game I understood that I was at a significant disadvantage.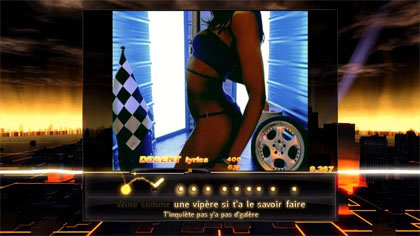 Def Jam Rapstar is easy to explain, it's karaoke with hip hop songs. If you've played Microsoft's Lips or Sony's SingStar series, then you'll know exactly what to expect from Rapstar. The gameplay is as simple as grabbing the nearest microphone (one comes with it for a few extra dollars) and rapping out the lyrics that pop up on screen. It's a concept anybody can understand, which is probably why this game will be appealing to so many hip hoppers who have felt shafted by the likes of Rock Band and Guitar Hero.
If you're a fan of this style of music, you'll definitely find something to love in Rapstar. You get old school hits from LL Cool J ("Mama Said Knock You Out"), Beastie Boys ("Brass Monkey") and Biz Markie ("Just A Friend"), as well as recent chart toppers from Lil' Wayne ("A Milli"), Drake ("Best I Ever Had"), Kanye West ("Stronger" and "Gold Digger"), T.I. ("Live Your Life"), Soulja Boy Tell 'Em ("Turn My Swag On") and 50 Cent ("I Get Money"). In total there are 45 different songs, running the gamut from catchy little numbers to songs I never want to hear ever again.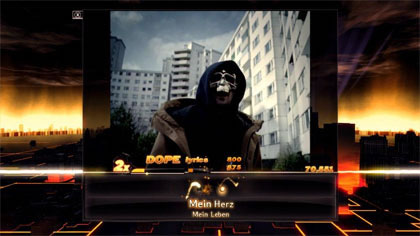 Like SingStar and Lips, Def Jam Rapstar features the song's music video as the background. It's a nice feature, but most people are going to be too busy keeping up with the speedy lyrics to notice what's going on in the background. It's also worth noting that not all songs have music videos. The Beastie Boy's 1987 hit "Brass Monkey" was successful without a music video, so players won't be too distracted by the audio channels bopping up and down.
For a lot of people that prospect of having a karaoke game full of hip hop is enough to warrant a purchase. While I certainly understand this mentality, I do have some issues with the game that I simply cannot overlook. Let's start with the most puzzling, the game's apparent lack of Dolby Digital support. Yes, this may seem like a minor problem, but the sound is noticeably muted in the standard stereo. After coming off of Guitar Hero and Rock Band (not to mention every other music game released in the past five years), I found the lack of Dolby support to be a little jarring. This is a music game after all; I expect the sound to be at the highest quality possible.