I have nothing against Green Day. In fact, I have spent good money buying a few of their previous albums (Dookie, Kerplunk, etc.). I certainly wouldn't call myself a fanatic, but I wouldn't turn the station if I heard Green Day on the radio. However, even with those qualifications, it's hard not to be a little disappointed with Harmonix's newest Rock Band game. It's not that Green Day isn't worthy of their own game, but rather the fact that we're coming off the release of The Beatles: Rock Band. As good as Billy Joe and gang are, Green Day is a gigantic step down from The Beatles, the single most influential rock band in modern history.
Thankfully, my disappointment with Green Day: Rock Band only lasted a few minutes. After you take a deep breath and realize that Green Day will never be as good as The Beatles, you realize that this California-based trio actually has a strong line-up of diverse rock songs that are a lot of fun to play. There are more than enough great songs in Green Day: Rock Band to warrant a purchase, even if you only plan on bringing this out at parties and get-togethers.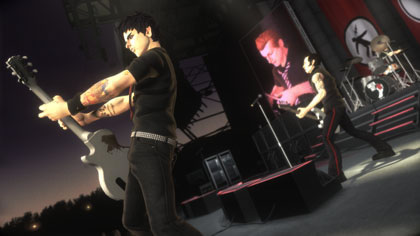 Let's face it; The Beatles were a lot more prolific than Green Day. In the last fifteen years, Green Days has managed to release only six albums (the most recent one hitting store shelves last year). In sharp contrast, The Beatles managed to form, become the biggest band in the world, release a dozen albums and break up all within a seven year period.
This Rock Band release seems to understand the differences between the bands. Instead of giving equal time to each album, Harmonix has decided to focus most of their attention towards three of Green Day's most popular records. We get the complete versions of both Dookie and American Idiot, the band's two most important albums. These two albums account for most of Green Day's biggest hits, including "Longview," "Holiday," "Welcome to Paradise," "Basket Case," and "Boulevard of Broken Dreams." They are, without a doubt, the biggest draw to this brand new game.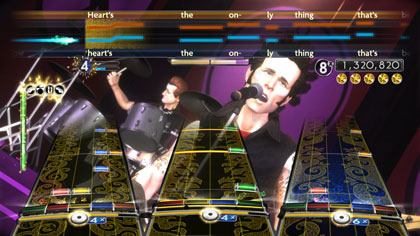 In an interesting (and wholly disappointing) move, Harmonix has decided to not include all 18 tracks found in 21st Century Breakdown. Because six of the songs are already available for download via the Rock Band music store, you'll have to spend an extra ten bucks in order to complete the record. This is disappointing for so many reasons, chief among them being the fact that this could have easily been avoided. These tracks were uploaded to the store during the development of this game, so it feels more like a money grab on the part of Harmonix. Adding these six songs would have made this collection feel more complete.
Aside from including all the songs from those three albums, Green Day: Rock Band also features a smattering of singles released between 1995 and 2000. These include hits from Insomniac ("Geek Stink Breath" and "Brain Stew/Jaded"), Nimrod ("Hitchin' a Ride" and "Good Riddance (Time of Your Life)") and Warning ("Minority" and "Warning"). It's sad that Harmonix opted against spending more time with these albums, but at least we get some of the big hits.