In my ten years writing game reviews, I've managed to review games in just about every genre. It doesn't matter how weird they are, I probably reviewed it. I've blasted my way through a shooter masquerading as a tactical role-playing game, battled it out with a 2D rapping dog and even played 3D games back before 3D was cool. But in all that time reviewing games, never before have I reviewed a tower defense game. Thankfully all that has changed, because I recently had the pleasure of going through Hudson's PSP tower defense game, Creature Defense. This inexpensive download title offers enough depth to warrant the price tag ... even if you're brand new to this genre.
Creature Defense combines the tactical gameplay of a standard issue tower defense game with the trappings of a card battling game (like The Eye of Judgment, a game you can link with this game). The addition of cards into the mix doesn't radically change the gameplay, the concept is for you to place your defensive units all around sides of the paths, giving them a chance to attack the waves of enemy units walking in formation. As you defeat enemies and pass waves, you will earn gems which you can use to bring more defensive characters in. You can also upgrade each unit, giving them new abilities and more powerful attacks. But be careful, if you don't manage your characters wisely you'll find that your defenses aren't enough and enemies will start to break through. Fail to kill too many enemies and it will be game over.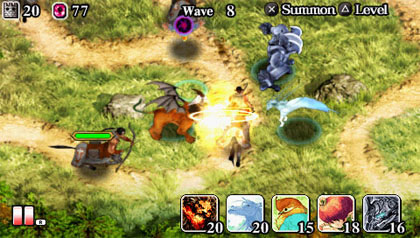 Although the concept seems simple at first, it won't be long before you will have to pay close attention to what types of units you use and when to upgrade over the course of a stage. Each battle is broken up into 50 different waves, including a huge variety of enemies of all shapes, colors, sizes and attributes. The waves begin with easy characters that won't take much effort to best. However, by the end of the 50 waves you'll have battled boss creatures, waves with multiple types of enemies and bad guys with drastically upgraded stats.
The good news is that once you've beaten back the 50 waves of bad guys, you will be able to collect your hansom reward and shop at the in-game card store. Here you will find all of your enemy cards, allowing you to pick up new units with brand new attributes to discover. Better yet, you'll also be able to customize your card collection to fit your next battle. Since you only get to take five cards into battle you will have to choose wisely. This will often come down to what types of enemies you're battling and what color their magical icon is. The game even allows for cards from The Eye of Judgment, the PlayStation 3 card battler.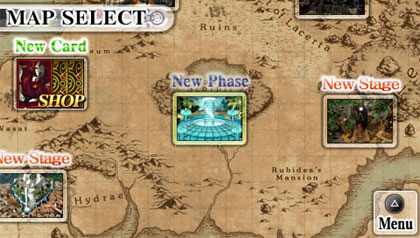 Given what you're being asked to do, the controls are surprisingly solid. I expected the worst from the PSP D-pad and analog stick, but they worked well together and I rarely had problems placing the pieces where I wanted them. You can use the analog stick to quickly look over the battlefields, while the D-pad allows for a slower curser for individual unit placement. You can speed up, slow down and even pause the action with the two shoulder buttons, plus get information about your units by using the face buttons. The heads up display does a good job at reminding you what the buttons do, and the whole thing was easy to learn for somebody brand new to this franchise.
The graphics are also fantastic. While most of the action takes place from an overhead point of view, all of the units (both good and bad) have interesting attacks and offer a unique look. The levels are gorgeous using a calming color pallet. Perhaps that's for the best, seeing as this game can send you into a frustration-fueled tizzy at a moment's notice. The presentation looks phenomenal on the PSP's screen.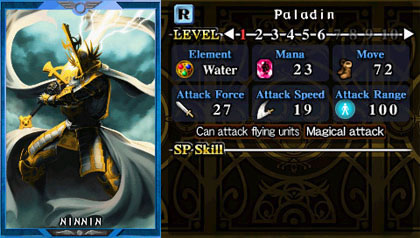 Even with the unique card battling perspective, Creature Defense doesn't exactly break any new ground. If you've never been a fan of this style of game, I doubt this inexpensive PSP title is going to change your mind. Still, this is one of the very few tower defense games on Sony's handheld; it certainly has a place in the library. There's enough here to recommend Creature Defense, it looks great, has a lot of replay and makes for a great portable game when you're on the go.