2009 has brought us a number of different "Hero" games, from the standard Guitar Hero 5 to DJ Hero to the portable Guitar Hero On Tour to the band-specific titles that keep popping up on the Nintendo DS. Clearly Guitar Hero has created a monster. But Activision's newest installment is a curious little music game. The name "Band Hero" doesn't make a lot of sense, both from a franchise point of view and grammatical design. It's being sold as a game that allows you to bring everybody together to play in a fake plastic band, but how is that any different from Guitar Hero World Tour or this year's Guitar Hero 5? And wouldn't it be Band Heroes? After all, a band has more than just one person in it. It's all so confusing, just what the heck is Band Hero?
In short, Band Hero is Activision's attempt to make a family friendly version of their popular Guitar Hero games. They trade Metallica, Van Halen and Sonic Youth for the likes of Taylor Swift, No Doubt and the Spice Girls. The game also features a more kid-friendly story, an easier difficulty and venues that are more in tune with the American Idol-style bands you will find in this collection. In other words, this is the Guitar Hero game for all of the gamers who were annoyed by the crunchy guitars and always hoped for more Top 40 pop hits.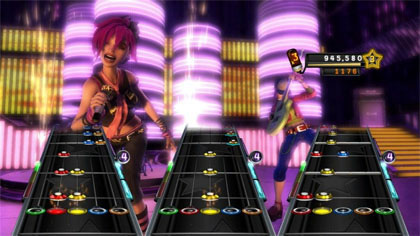 The Guitar Hero 5 (and World Tour) basics are all here, you can play as a guitarist, bassist, drummer or the singer. You still match colored notes on a note highway, build up the power-ups to launch into star power and so on so forth. Anybody that has played through Guitar Hero 5 will feel right at home, since pretty much every enhancement made to that game is apparent in Band Hero. The only real difference is the artists in the collection and the venue you rock out in.
In total there are 65 different pop artists, including some of the biggest names of the last 40 years. The list includes Hinder, Marvin Gaye, The Rolling Stones, Spice Girls, Nelly Furtado, Jackson 5, The All-American Rejects, Cheap Trick, Lily Laaen, KT Tunstall, Fall Out Boy, Duran Duran, Pat Benatar, The Go-Go's, Hilary Duff and even the Village People. Don't look for a lot of rare songs in this collection, all of the tunes are pulled straight off of Billboard's Hot 100 list.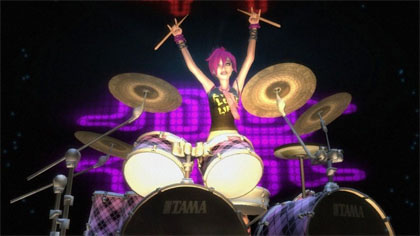 As a fan of rock music, I found a lot of these songs to be extremely grating. I wasn't familiar with bands like Hinder or the Cold War Kids, and now that I've spend five minutes with their music I know why. Of course, as is so often the case, this particular game isn't aimed at my musical tastes. This, like the recently released LEGO Rock Band, is designed to bring new music lovers into the fold. This is the game you can play with your little sister, it's completely inoffensive and a good time will be had by all. And who knows, perhaps after this new audience is done having a good time with Band Hero they will graduate up to one of Activision's dozen Guitar Hero games.