Activision gets a lot of grief for releasing what often feels like dozens of Guitar Hero games each year. Thanks to games like Band Hero, Guitar Hero: Van Halen and Guitar Hero Smash Hits, even a stalwart fan of the series like me is starting to lose interest. There is definitely an argument to be made for the milking of the "Hero" franchise. But while all this is true, I'm struck by how much I enjoyed DJ Hero. It's not a perfect game by any means, but at least it shows that the company is willing to try something brand new.
DJ Hero is exactly what you think it is, a game where you play a fake plastic turntable. It's like Guitar Hero, but with a turntable instead of a guitar. It's like Karaoke Revolution, except there's more scratching than singing. Okay, you get the point. But what makes this game so exciting is that it uses an instrument that as far as I'm concerned hasn't been successfully duplicated on the home consoles. Activision definitely does a good job of getting the ball rolling and, assuming they stick with the series, I can see this being one of the shining stars in the music genre.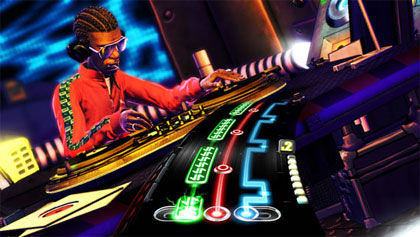 DJ Hero trades traditional rock 'n roll for electronica, hip hop and dance music. This means that you'll hear a lot of familiar bands that haven't been represented in the Guitar Hero franchise. I'm talking about DJ Shadow, Daft Punk, 50 Cent, Jay-Z, Rihanna, Q-Tip, Public Enemy, Eminem, M.I.A. and so on so forth. These artists make a strong argument for why this product should exist, there's clearly a lot of music that is completely ignored in many of the other popular music games.
Most of the game's 93 original mixes are mash-ups between two disparate artists. The idea is that if you pair Jay-Z with Eminem or Gwen Stefani with Indeep, you'll automatically come up with something cool. The results are decidedly mixed. There are definitely some stand out tracks in the bunch, including just about everything paired with DJ Shadow, Daft Punk and Herbie Hancock. There are a bunch of surprises in the mix, including a stellar mash-up that pairs Vanilla Ice's "Ice Ice Baby" with MC Hammer's "U Can't Touch This." Who knew that combining these two mediocre talents would result in something so beautiful?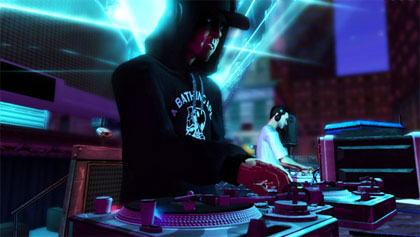 Unfortunately there are a number of real stinkers in the mix. There are a lot of bands that simply shouldn't go together, such as The Killers pairing with Rihanna or 50 Cent paired with David Bowie. One of the more offensive mixes include Beck and Third Eye Blind, two bands that definitely don't go together. I also found that pretty much everything paired with the Black Eyed Peas is worth skipping, which goes for real life as well. Still, while there are plenty of terrible mixes found in the package, I am happy that they at least tried something different. There are more than enough good tracks in this collection to make it worth owning.
While there are 93 original mixes in the game, don't think that it means that there are 93 different songs to choose from. You'll find that a lot of the songs are used multiple times, paired with several different artists. For example, Daft Punk's "Da Funk" is used in three different mixes, paired with the Beastie Boys, Queen and Karen O of the Yeah Yeah Yeahs. You'll find the same thing with Rihanna's "Disturbia," which is married with Kid Sister, The Tramps and The Killers. Thankfully these mixes are different enough to warrant a play through, but those expecting almost a hundred different songs will be sorely disappointed.