I'm not going to say that Pinball Hall of Fame: The Williams Collection is going to make you forget about the fire power of Halo 3: ODST. I doubt that it's going to make you rush to your local record store in quite the same way as The Beatles: Rock Band. And there's no way that this game will give you the same sense of speed as Need for Speed: Shift. The truth is, Pinball Hall of Fame isn't going to make you forget about any of this September's much-hyped game releases. What I can promise is that unlike those other games, you'll still be going back to The Williams Collection long after you complete it.
Released on the Wii and PlayStation some 19 months ago, Pinball Hall of Fame: The Williams Collection is finally making its way to the Xbox 360. This package takes everything that was great about the original release and adds high definition graphics, a better control layout, online leader boards and a handful of exciting new pinball tables for you to master. It all adds up to not only the best version of Pinball Hall of Fame out there, but also one of the greatest pinball compilations ever released.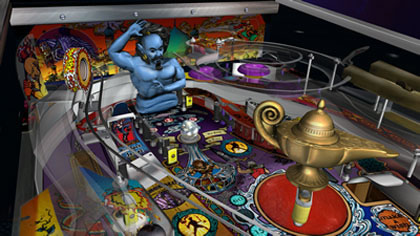 As the title suggests, Pinball Hall of Fame takes you on a wild journey through three decades of pinball tables. As you enter the Hall of Fame you will be greeted with the sights and sound of a real arcade (only without the kids running around and that overwhelming urine odor). You are given a few tokens and a couple of machines programmed for "free play". It's your job to earn high scores, earn more tokens and eventually unlock all of the game's 13 tables.
Taking tables from the 70s, 80s and 90s, this compilation features an inspired collection of amazing pinball machines. You get some of William's biggest success stories (Pinbot, Whirlwind, Funhouse, etc.), some of their more recent entries (Medieval Madness, Tales of the Arabian Nights, No Good Gophers) and one table that is only months shy of its 40th anniversary (1970's Jive Time). Regardless of whether you grew up playing these games or are experiencing them for the first time, there's a little something for everybody at the Pinball Hall of Fame.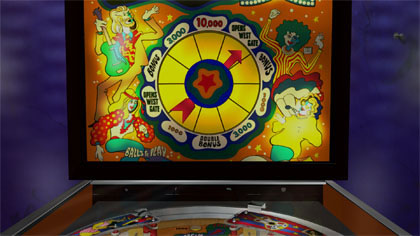 What struck me about this collection is how different each of these tables is. It's not just the artwork that adorns the cabinet, but also all of the different rules and features found in each table. You can really see the evolution of pinball as you play through the tables in chronological order. With each year they seem to get more and more complicated, adding multiple storylines, more flippers, tons of tunnels and the always exciting multi-ball. And yet, even the most convoluted board seems doable, if only because the basic gameplay remains the same from game to game.
No matter what year it came out or what the subject matter, each of these games is overflowing with personality. Taxi, for example, has you picking up famous faces (Santa Claus, Dracula, Mikhail Gorbachev, etc.) and dealing with unruly airport traffic. No Good Gophers, on the other hand, has a golf theme that includes a weaponized golf cart, a hole to putt and all of the hazards of a real golf course (including a Caddyshack-inspired gopher). Other games include Whirlwind (which features a wind gimmick that can radically alter the direction of your ball), Pinbot (based on robot lore) and Space Shuttle (which might as well be the official NASA table). Best of all, with names like Medieval Madness, Black Knight and Sorcerer you won't even need to play the game to know what they're about.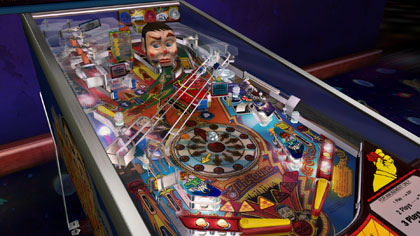 With any compilation disc you will always have a few clunkers, and that's certainly true with Pinball Hall of Fame. Without a doubt, my least favorite table is the ironically named Funhouse. This 1990 pinball machine looks inviting from afar, but once you get closer you'll notice that much of the table is covered. Worse yet, the game feels like it was designed to make you lose your ball in cheap ways. This is one of those tables where you can lose your turn within seconds of starting. Even the stunningly complicated Tales of the Arabian Nights was less frustrating than Funhouse.
No matter what you think of any one of these games, there's one thing you can't complain about - the visuals. This is without a doubt the best any of these games has ever looked on a game console. And outside of having the arcade machine in your living room, you simply cannot get any closer to the real thing. The high definition graphics make every table look lifelike, complete with flaws and a reflection on the glass. As impressed as I was by the graphics on the Wii, I was blown away by Pinball Hall of Fame on the Xbox 360.