At long last, I give you Guitar Hero 5. Wait ... Guitar Hero 5? How can this be the fifth game when I own six different Guitar Hero games all on the Xbox 360? The proper sequel to Guitar Hero World Tour (and not this year's Guitar Hero: Smash Hits, Guitar Hero Metallica, Guitar Hero On Tour: Modern Hits or even Guitar Hero: Van Halen), Guitar Hero 5 doesn't try and reinvent the wheel. What it does is offer enough rockin' songs and compelling changes to warrant a look.
All joking aside, Guitar Hero 5 is the very best entry in the Guitar Hero franchise. I don't say that because it adds a bunch of brand new modes and extras, but rather because it manages to take what already worked and polish up the presentation. This is a sharp looking music game full of must-own songs from new and old artists. Even if the game still hasn't found a way to duplicate the longevity of Rock Band 2's world tour mode, Guitar Hero 5 has enough going for it to remain a great buy on any system.
After several installments that attempted to add new gameplay gimmicks, Guitar Hero 5 decides to keep it simple and focus on the presentation and multiplayer modes. This turns out to be a wise move, since each new "enhancement" makes it feel less like the Guitar Hero I fell in love with all those years ago. You still have the touch pad notes (which can be activated using the standard buttons if you don't have a World Tour guitar) and differently shaped extended notes, but neither of those things feel as out of place the second time around.
The real improvements lie in making this series more accessible from the get-go. Beyond offering a bunch of different difficulties (including one that doesn't even require you to hit notes), Guitar Hero 5 lets you jump right into the game without dealing with a single menu screen. Right from the get-go you see a video of a band on stage playing a random song, if that's something you want to be a part of you can push the right button and jump right up on stage. From there the game will just continue to throw songs at you, all without worrying about making a set list or surfing through cumbersome menus.
Let's say your buddy shows up and wants to get in on the action, you can do that too without even stopping the song. Just have your friend pick his weapon of choice and start rockin', even if you're in the middle of a song. And best of all, you don't have to fight over what instrument you're going to play. Does your party want more than one drummer? You can do that. Or maybe everybody wants to sing in a chorus of tone deaf drunkenness. You can do that, too. It's a little weird to see all of the different people on stage, but the game gives you options that actually make sense when you're putting together a Guitar Hero party.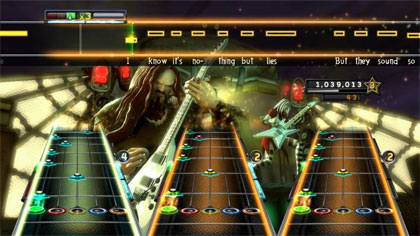 One of the most shocking developments in Guitar Hero 5 is the overhaul of the traditional 5 star rating. While you still earn five stars (based entirely on how many points you earn over the course of the song), you now have the ability to earn as many as four additional stars. One extra star is doled out if you get 100%, or what used to be 5 gold stars. On top of that extra star, there are three more stars you can earn by completing a special task. These tasks are instrument specific, so you won't be able to take part in these optional challenges with every song. You'll find that every song has one of these tasks, which will often have you trying to hit as many notes as you can in a row, use your whammy bar a certain amount of time, beat a high score with your full band, etc. While this is a simple idea, it does offer an incentive to go back and play songs in different ways.
Outside of a few other minor changes, much of Guitar Hero 5 remains the same. You still have a campaign mode, which takes you through a number of different venues playing songs and rockin' encores. There's also a quick play mode which lets you choose any one of the 80+ songs right from the get-go. You'll also find the same kinds of competitive modes you saw in World Tour, only now with a few unexpected twists. If you enjoyed these modes before then you'll likely find yourself having an equally good time with Guitar Hero 5.