"20 All-New Epic Tracks." That's what the front of Rock Band Track Pack: Classic Rock tells me. Yet how can these songs be "all-new" if they have been available for download via the Rock Band online music store for more than a year? Better yet, how can these be "all-new" classic rock songs? Isn't that an oxymoron? The very genre name seems to play against the idea that anything on this disc is new. Yet that's what it tells me, in large yellow ink.
Of course, what they are saying is that these songs are "all-new" to people that have never downloaded a song and only own one of the two main Rock Band games. For those people without a way of surfing the music store or the room to put them on their hard drive, this track pack is no doubt a godsend. It features 20 solid tracks, 13 brand new achievements and, well, that's pretty much all it offers. However, it should be said, if you're one of those people who owns an Xbox 360 and require this kind of disc, then perhaps you should seriously think about finding a way to hook your system online. You will no doubt be astounded by the 500+ songs available for download for just a dollar or two each.
As the name suggests, Rock Band Track Pack: Classic Rock delivers a good helping of songs from the 1970s - 1990s, including some of the biggest names in rock. You get songs from Boston ("Peace of Mind" and "Rock and Roll Band"), Dead Kennedys ("California Uber Alles" and "Holiday in Cambodia"), George Thorogood ("Bad to the Bone"), The Who ("Baba O'Riley" and "Behind Blue Eyes"), Steve Miller Band ("Take the Money and Run" and "The Joker"), Rush ("Closer to the Heart" and "Red Barchetta") and more.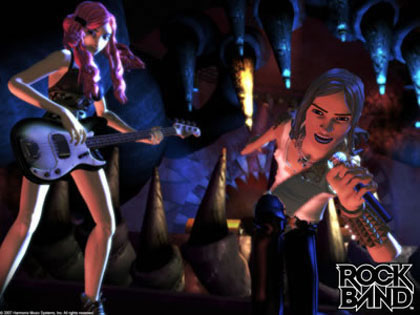 For the most part these songs fit in the "classic rock" category, since many of the songs come from the 1980s and before. However, there are a couple of questionable choices that make me feel older than I actually am. A good example of this is "Kiss Them for Me" by Siouxsie & the Banshees and "Love Spreads" by The Stone Roses, both songs from the 1990s. Granted they were from the early part of that decade, but I still wonder if they are the definition of classic rock. The only way these can be considered classic is if you're 14 ... and I'm not. It's a shame we didn't get some of the David Bowie, Grateful Dead or The Monkees on this disc, songs that would genuinely be considered classic by any standard.
Quibbling about what constitutes a classic rock song aside, Rock Band Track Pack: Classic Rock has a nice mix of 20 classic rock songs ... and nothing else. Seeing as this is an expansion pack, you really shouldn't expect much from this effort. Like AC/DC Live before it, this Classic Rock disc has none of the cool single- and multiplayer modes we've come to expect from the Rock Band franchise. You can't play through an elaborate world tour mode or create your own band. Heck, you can't even customize your character, a feature sorely lacking from these barebones track pack discs.